Brunch can be both sweet and savory when these strawberry, pistachio, and goat cheese crepes are on the menu!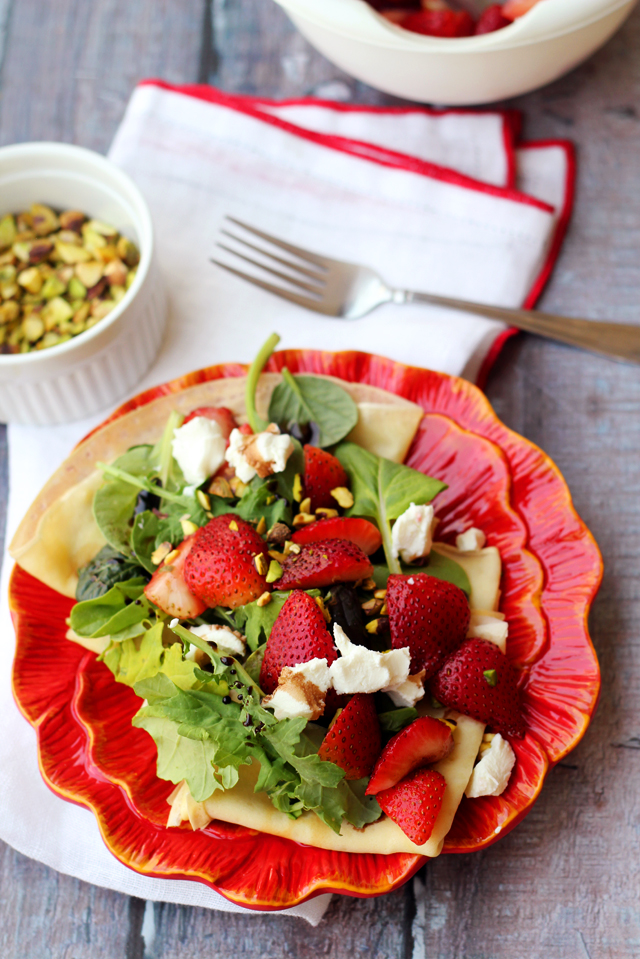 In case you thought that Miley Cyrus's performance at the VMAs couldn't be topped in terms of shock value.
You obviously haven't seen the first draft of my wedding invitations.
At least, according to the.boy's and my mothers who reacted to our inclusion of accommodation information on the back of the card as if we were suggesting sending little nuggets of crystal meth in the envelopes along with our RSVP cards. Apparently this absolutely must be put on its own separate little card or else absolutely everyone will be offended. Who knew?
(As an aside, I have spent far too much time this weekend watching Breaking Bad. Can you tell?)
I won't even tell you their feelings on the fact that we were so bold as to write "NO BOXED GIFTS PLEASE" at the bottom.
But suffice it to say that quite a few four letter words were involved.
Not that I feel like I have to defend myself, but. So long as no one is offering to buy me a bigger apartment to put all of the nonsensical and unwanted items they will undoubtedly think I can't live without, I reserve the right to reject them outright. Best to give nothing at all than to give something I will just throw out immediately upon returning home, which would just be a waste of time, energy, and money for all parties involved.
You see, I really just have everyone's best interests at heart.
Apparently compromise is the name of the game when it comes to not disowning or being disowned throughout the wedding planning process.
So while there will be a separate card for the accommodation information, the "no boxed gifts" line is staying.
Albeit, in a smaller font. Even I can be slightly flexible on occasion.
A good brunch, just like a good relationship with the maternal figures in one's life, is also based on compromise.
Sweet and savory elements must be blended in such a way that you get the essence of both breakfast and lunch in every bite, without either being overpowering.
Not to brush my own shoulders off or anything. But these crepes have achieved that perfect ratio.
The crepes themselves have a hint of vanilla sweetness to them that is accented by the strawberries, which are macerated in just a hint of sugar. However, the remaining toppings are all savory. There's an earthy bitterness from the baby greens, nuttiness from the pistachios, tang from the goat cheese and tart from the balsamic vinegar. If you closed your eyes, you might even think you were eating salad, until that first bite of juicy strawberry or mouthful of crepe hit you.
Then you'd realize, no. This is just what brunch is supposed to taste like. A little of this, a little of that, and a lot of delicious.
Which, coincidentally, is exactly what I expect our wedding to be like.
So long as no one dares to bring a boxed gift.
Strawberry, Pistachio, and Goat Cheese Crepes
Brunch can be both sweet and savory when these strawberry, pistachio, and goat cheese crepes are on the menu!
Ingredients
For the crepes
1½ cups flour
pinch of salt
2 cups vanilla almond milk
3 eggs
1 tbsp vanilla
3 tbsp olive oil
For the filling
1 lb strawberries, hulled and quartered
2 tbsp sugar
5 oz baby greens
¼ cup pistachios, toasted and chopped
4 oz goat cheese, crumbled
4 tbsp mosto cotto or other sweet balsamic vinegar
Instructions
In a large bowl, whisk together the flour and salt.
In a separate bowl, whisk together the almond milk, eggs, vanilla, and oil. Slowly whisk the liquid mixture into the dry ingredients, mixing until well combined. Let sit for 20 minutes.
In the meantime, toss the strawberries with the sugar. Let sit while you cook the crepes.
Lightly grease a large nonstick pan or a crepe pan and set over medium heat. Add ⅓ cup of batter to the pan and swirl to coat the pan. Cook for 2-3 minutes or until the edges of the crepes start to curl. Flip and cook the other side for 30-45 seconds. Remove from pan and repeat with remaining batter.
Serve crepes topped with the baby greens, strawberries, chopped pistachios, goat cheese and a drizzle of the mosto cotto.
Notes
Crepes adapted from
Diethood
, Filling is an Eats Well With Others Original
For more fruity brunch ideas, check out these: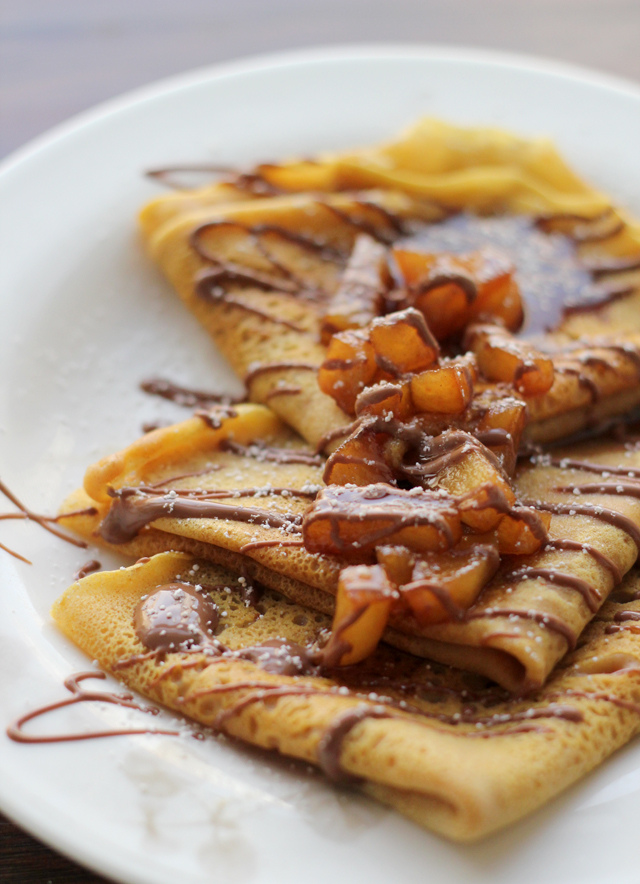 Pumpkin Crepes with Beer and Cinnamon Apples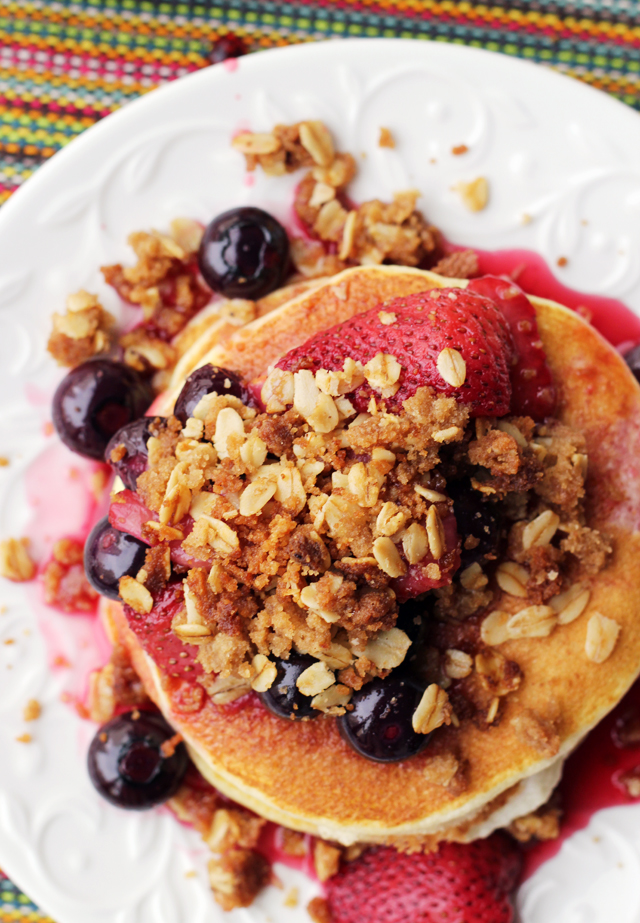 Berry Crisp Lemon Ricotta Pancakes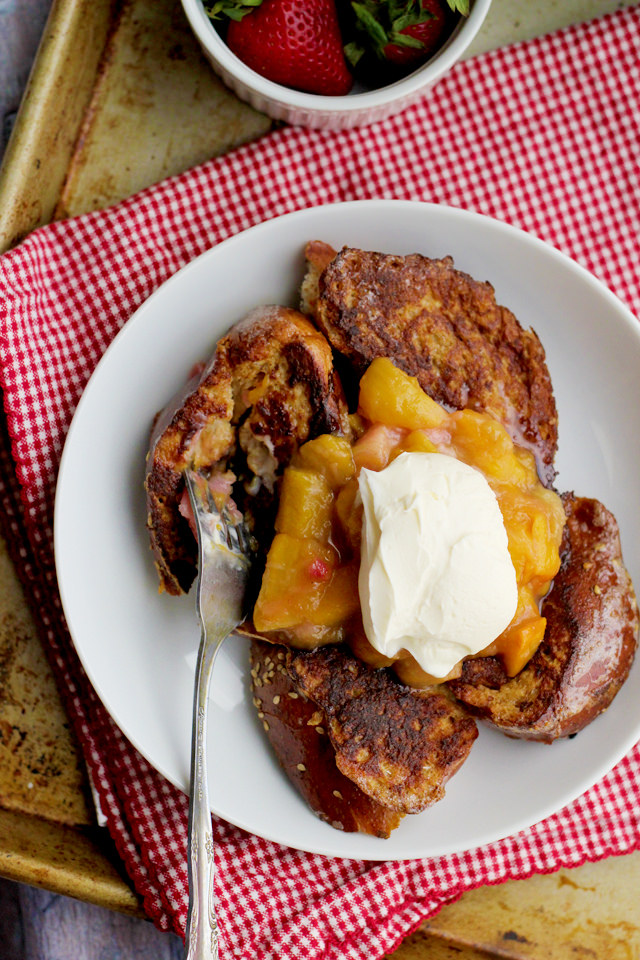 French Toast with Rhubarb Mango Compote and Creme Fraiche
From Around the Web:
Challah French Toast with Roasted Apricots, Vanilla Mascarpone and Toasted Almonds from Blogging Over Thyme
Vanilla Bean Millet Porridge with Lavender Strawberries from The First Mess
Rye Crepes with Sorghum-Bourbon Strawberries from Naturally Ella
Lemon Raspberry Yogurt Scones from Fat Girl Trapped in a Skinny Body
Bananas Foster Crepes from Diethood