A lovely, seasonal spiced plum fig pie with a crisp and flaky all butter crust and a sweet-tart fruity filling.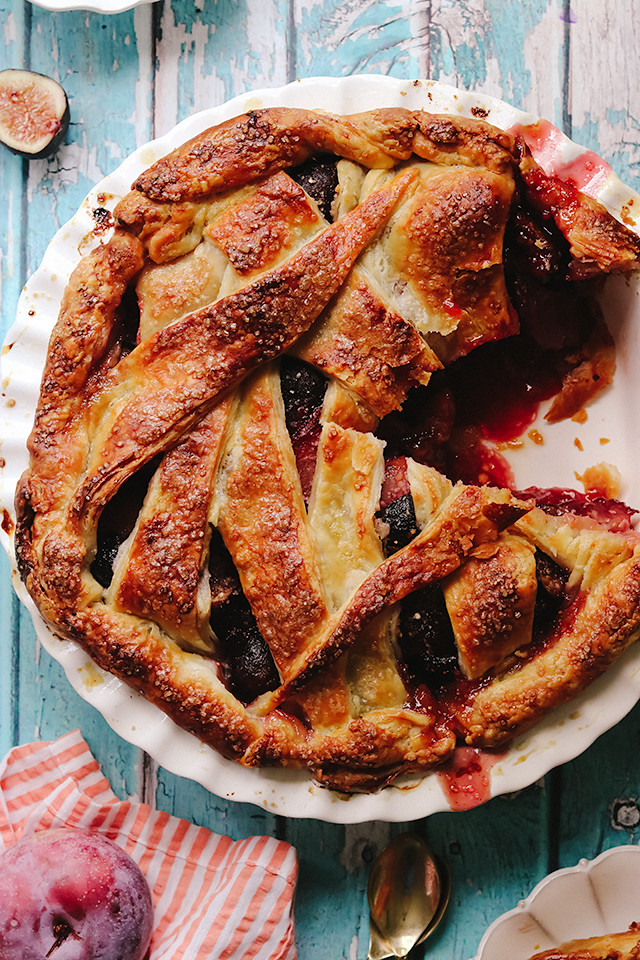 You didn't think I would miss this opportunity to combine two of my favorite things in life, did you?!?!
I mean, other than my child, but I can't eat her.
Or so she keeps telling me when I try to nibble on her cheeks. (They just look so TASTY!)
It's going on three weeks now that I've easily been able to get really good figs, so hopefully you can too.
If not you can totally make this an all plum pie!!! It will still be super delicious, just different.
In the interest of full disclosures, I actually used pluots here instead of plums. I feel like they're simultaneously a little sweeter and a little tarter than regular plums, giving this a much richer flavor.
And OF COURSE I used my favorite all-butter crust from Four & Twenty Blackbirds. It comes out ridiculously flaky and perfectly crispy every time. Plus it is a total dream to work with. I can roll it out in about 3 minutes flat, and it is not because I have pie superpowers. It is just that pliable.
In addition to the fruit, the filling in this pie is comprised of cinnamon spice and everything nice!
It features ginger, cinnamon, and cloves, along with a touch of lemon juice to give it a fresh, clean flavor as well as Angostura bitters, which help to round out the flavor profile and make sure every part of your taste buds gets to partake in the pie party.
It's a perfect pie for any Labor Day celebrations you're attending (masks on, please and thank you!!) or just to make your Friday night at home a little bit more festive.
Spiced Plum Fig Pie
A lovely, seasonal spiced plum fig pie with a crisp and flaky all butter crust and a sweet-tart fruity filling.
Ingredients
For the pie crust
2½ cups all purpose flour
1 tsp kosher salt
1 tbsp sugar
½ lb (2 sticks) cold unsalted butter, cut into ½-inch pieces
1 cup cold water
¼ cup cider vinegar
1 cup ice
For the filling
1.5 lb fresh plums, cut into ¼-inch slices
1 lb fresh figs, halved
¼ cup sugar
½ cup packed dark brown sugar
3 tbsp potato starch or ground tapioca pearls
2 tbsp lemon juice
½ tsp ground ginger
¼ tsp ground cinnamon
pinch of ground cloves
½ tsp kosher salt
dash of angostura bitters
1 large egg
1 tsp water
demerara sugar, for finishing
Instructions
For the crust
Whisk together the flour, salt, and sugar in a large bowl. Add the butter to the flour mixture and toss to coat. Using a pastry blender, cut the butter into the flour until only pea-sized pieces of butter (or smaller) remain.
In a separate small bowl, combine the water, cider vinegar, and ice. Sprinkle 2 tbsp of the ice water mixture over the flour-butter mixture. Toss with your hands until fully incorporated. Add more of the ice water, 1-2 tbsp at a time, using your hands to mix. Add just enough of the water mixture so that the dough comes together into a ball. Split the dough in half and shape each half into a flat disc. Wrap in plastic wrap and refrigerate for at least 1 hour.
For the pie
Roll out one of the pie discs into an 11-inch round. Use this to line the pie plate leaving a 1-inch overhang around the edges. Wrap in plastic wrap and chill for at least 30 minutes or overnight.
Combine the plums, figs, sugars, potato starch, lemon juice, ginger, cinnamon, cloves, salt, and bitters in a large bowl. Stir well to combine.
Roll out the second pie crust disc into an 11-inch round. Using a pizza cutter, cut into long thin strips or triangle shapes for the lattice.
Pour the filling into the prepared pie crust. Arrange the lattice or pastry on the top of the pie, crimping the sides as desired. Place the pie in the refrigerator or freezer for 10-15 minutes. Meanwhile, heat the oven to 425F.
When ready to bake, whisk the egg with 1 tsp water. Brush the pastry with the egg wash. Sprinkle with the demerara sugar.
Place the pie plate on a rimmed baking sheet on the lowest rack of the oven. Bake for 20-25 minutes, or until the crust is starting to turn golden. Decrease the oven temperature to 375F. Move the pie to the center of the oven and bake for another 30-35 minutes, or until the juices are bubbling in the center of the pie.
Allow to cool completely on a wire rack, about 2-3 hours. Serve warm or at room temperature.