Candied Ginger, Almond, and Quinoa Granola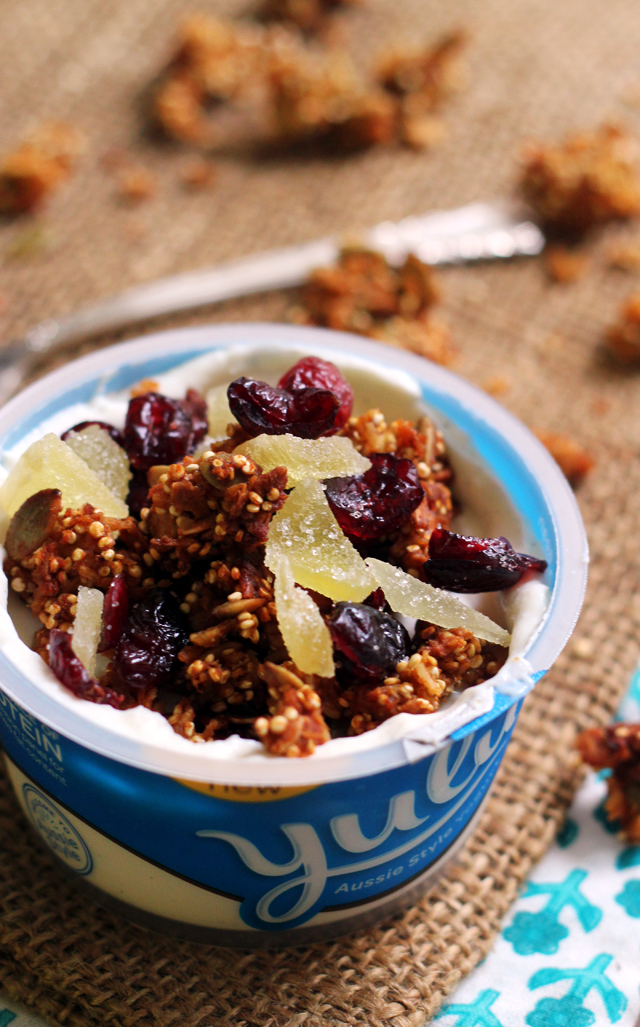 ¾ cup rolled oats
½ cup quinoa
⅓ cup pepitas
⅓ cup sliced almonds
⅓ cup unsweetened shredded coconut
¼ cup brown sugar
1 tsp ground cinnamon
1 tsp ground ginger
1 tsp kosher salt
½ cup pumpkin puree
¼ cup honey
2 tbsp olive oil
¼ cup dried cranberries
¼ cup dried cherries
½ cup crystallized ginger, finely chopped
Heat oven to 350F.
IN a large bowl, toss together the oats, quinoa, pepitas, almonds, coconut, brown sugar, cinnamon, ginger, and salt.
In a small bowl, whisk together the pumpkin, honey, and olive oil. Add to the dry ingredients and toss until thoroughly combined. Spread out on a parchment-lined baking sheet in an even layer. Bake for 30-40 minutes, stirring every 10 minutes, until golden brown and crunchy. Let cool completely.
Toss with the dried fruit and ginger. Serve over yogurt.
Recipe by
Joanne Eats Well With Others
at https://joanne-eatswellwithothers.com/2015/01/candied-ginger-almond-quinoa-granola.html