Dark Chocolate and Peppermint Whipped Cream Tart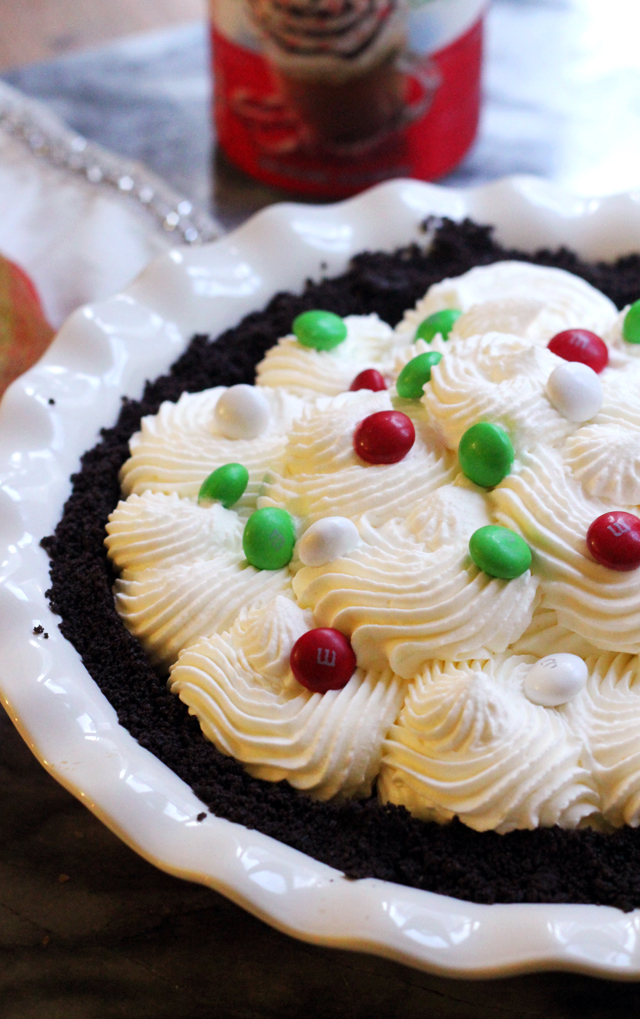 25 Oreos or chocolate sandwich cookies
5 tbsp butter, melted
1¼ cups heavy cream
¼ cup light corn syrup
12 oz bittersweet chocolate, chopped
1 tsp peppermint extract
3 cups heavy cream
½ cup International Delight Peppermint Mocha Creamer
¾ cup powdered sugar
1¾ tsp peppermint extract
Peppermint flavored candy, to garnish
For the crust, pulse the Oreos in a food processor until they are the consistency of fine crumbs. Add the butter and pulse until moist. Press into a 9-inch tart or pie pan so that the crust completely lines the bottom and comes up the sides. Place in the freezer while you prepare the filling.
For the filling, in a heavy bottomed pot, combine the heavy cream and light corn syrup. Bring to a simmer. Remove from the heat and stir in the chocolate, mixing until smooth. Mix in the peppermint extract. Allow to cool at room temperature for 30 minutes, then place in the refrigerator to chill until set, about 3 hours or overnight.
For the topping, beat together the heavy cream, Peppermint Mocha Creamer, powdered sugar, and peppermint extract until stiff peaks form. Spread 2 cups of the whipped cream over the filling, allowing it to mound slightly in the center. Place the rest in a piping bag and pipe as desired to decorate. Top with peppermint candies.
Adapted from
Bon Appetit Desserts: The Cookbook for All Things Sweet and Wonderful