Speculoos Cookies {the leftovers club}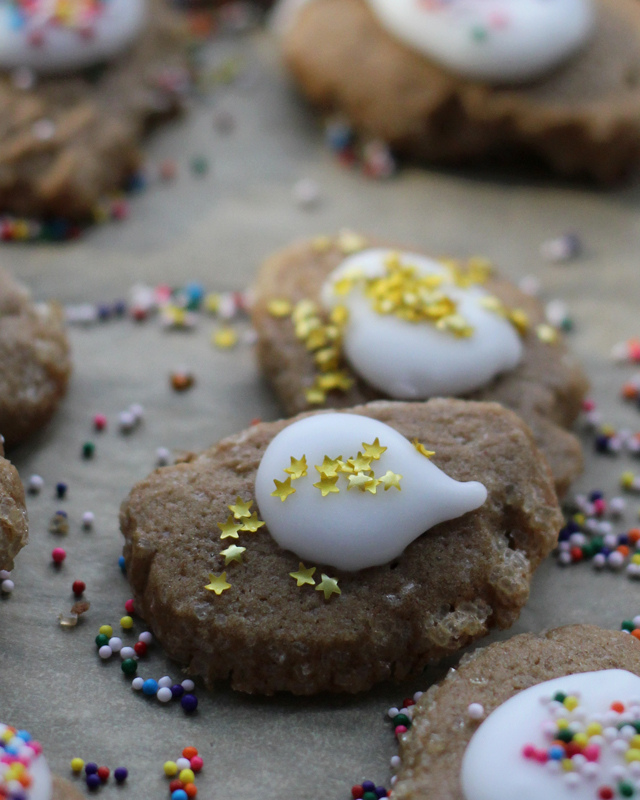 2 cups all purpose flour
1 tbsp cinnamon
¾ tsp ginger
½ tsp fine sea salt
¼ tsp nutmeg
⅛ tsp cloves
½ cup unsalted butter, room temperature
½ cup light brown sugar
¼ cup sugar
2 tbsp molasses
1 large egg, room temperature
1 tsp vanilla extract
1 large egg white
sanding or other decorative sugar
2 cups confectioner's sugar
2-3 tbsp cold water
sprinkles, dragees, or colored sanding sugar for decoration
Whisk together the flour, cinnamon, ginger, salt, nutmeg, and cloves in a large bowl. Set aside.
In the bowl of a stand mixer fitted with a paddle attachment, beat the butter on medium speed until creamy, about 2 minutes. Add in the brown sugar, sugar, and molasses. Beat until creamy, about 3 minutes, scraping down the side of the bowl, as needed. Add in the egg and vanilla extract. Stir together for 2 minutes. Reduce the speed to low and add the dry ingredients, mixing until just combined.
Divide the dough into thirds. Roll each piece of dough into an 8-inch log. Wrap tightly in plastic wrap or saran wrap and freeze for at least 3 hours.
Arrange racks on the top and bottom thirds of the oven. Heat to 375. Line 3 baking sheets with parchment paper or silicone mats.
Whisk the egg white in a small bowl just to loosen it up. Remove one of the dough logs from the freezer and brush with the egg white. Roll in sanding sugar. Slice off a sliver of dough from each end to make ends flat. Cut the log into ¼-inch thick rounds and set on the parchment-lined sheets, leaving ½-inch between them. Repeat with remaining dough.
Bake, 2 sheets of cookies at a time, for 11-13 minutes, rotating once halfway through. Cook until cookies are golden brown and almost firm in the center. Let cool on a wire rack.
Once cookies are cool, whisk together the confectioner's sugar and cold water, as necessary until icing is desired consistency. Pipe or spoon onto the tops of the cookies in ½-tsp increments. Sprinkle with decorative sugars and/or sprinkles.