Tacos with Corn, Zucchini-Radish Slaw and Avocado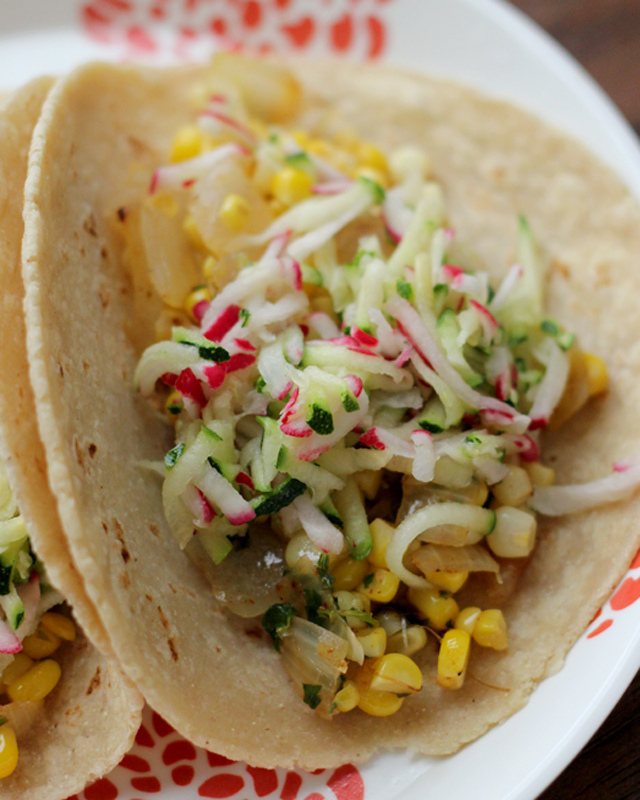 8 oz red radishes, trimmed
1 zucchini
1 lime
salt
5 ears corn, husks removed
1 tbsp olive oil
1 onion, finely chopped
2 cloves garlic, minced
3 tbsp chopped cilantro
4 oz ricotta salata, crumbled
¼ tsp chili powder
8 soft corn tortillas
8 eggs
1 avocado
Grate radishes and zucchini using a handheld grater or food processor attachment. Alternatively, you can cut them into tiny matchsticks using a mandoline or cut them by hand.
Squeeze the juice of half a lime over the radish-zucchini mix and season with salt to taste. Set aside.
Remove the corn kernels from the stalk and reserve. In a large nonstick skillet heat the olive oil. Add in the onion and cook until translucent, about 5 minutes. Stir in the garlic and cook until fragrant, about 30 seconds. Add in the corn and cilantro and saute until heated through, about 2 minutes. Remove from the heat and stir in the ricotta salata, chili powder, and juice from half a lime. Season to taste with salt and pepper.
Heat the tortillas. Prepare eggs as desired (I went with sunny side up). Top each warm tortilla with the corn-cilantro filling, zucchini-radish slaw, an egg, and avocado slices. Serve 2 tacos per person.
Recipe by
Joanne Eats Well With Others
at https://joanne-eatswellwithothers.com/2013/08/tacos-with-corn-zucchini-radish-slaw-and-avocado-recipe-redux.html