Spiced Eggplant with Bulgur Salad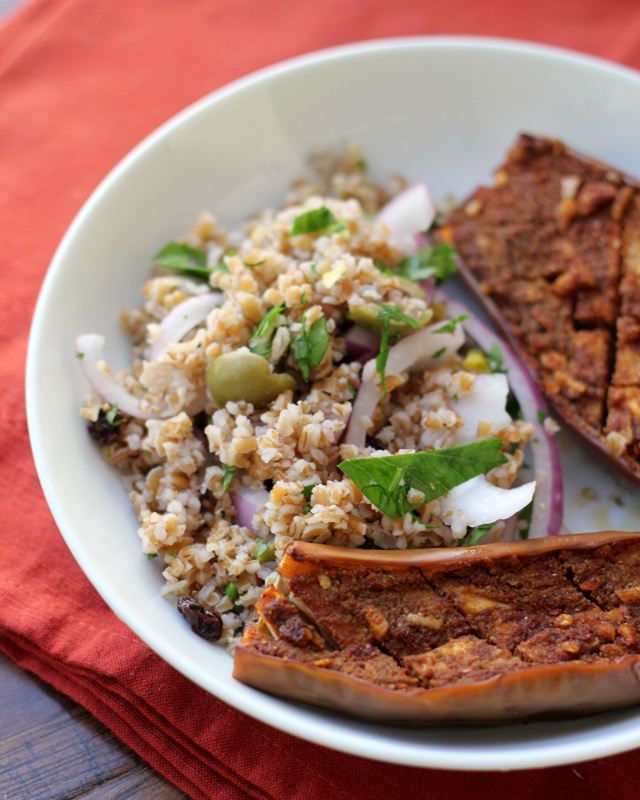 ¼ cup olive oil
2 tbsp lemon juice
2 cloves garlic, minced
2 tsp ground cumin
2 tsp ground coriander
1 tsp paprika
¾ tsp cinnamon
½ tsp red pepper flakes
½ tsp kosher salt
4 small eggplants
1 cup dried bulgur
2 cups water
½ cup pitted green olives, quartered
½ medium red onion, thinly sliced
⅓ cup currants
⅓ cup parsley, chopped
⅓ cup cilantro, chopped
¼ cup pistachios
3 tbsp white balsamic vinegar
freshly ground black pepper
salt, to taste
Preheat the oven to 350.
In a small bowl, whisk together the olive oil, lemon juice, garlic, cumin, coriander, paprika, cinnamon, red pepper flakes, and salt.
Cut the eggplant in half lengthwise. Score the eggplant with a knife, diagonally, in crisscrossing lines, without breaking the skin. Place eggplant halves face up on a parchment lined baking sheet. Spoon the olive oil spice mix over each half. Roast for 50-60 minutes, until eggplant is tender.
Meanwhile, place the bulgur and two cups of water in a medium pan. Add in a pinch of salt. Bring to a boil, then cover and simmer for 15-20 minutes or until water has evaporated. Turn off heat and let rest for 5 minutes.
Fluff bulgur with a fork and pour into a large bowl. Toss with the olives, onion, currants, parsley, cilantro, vinegar, and salt to taste. Serve alongside the eggplant.
Serving size:
¼ of recipe