Roasted Zucchini, Pepper, Onion and Goat Cheese Sandwiches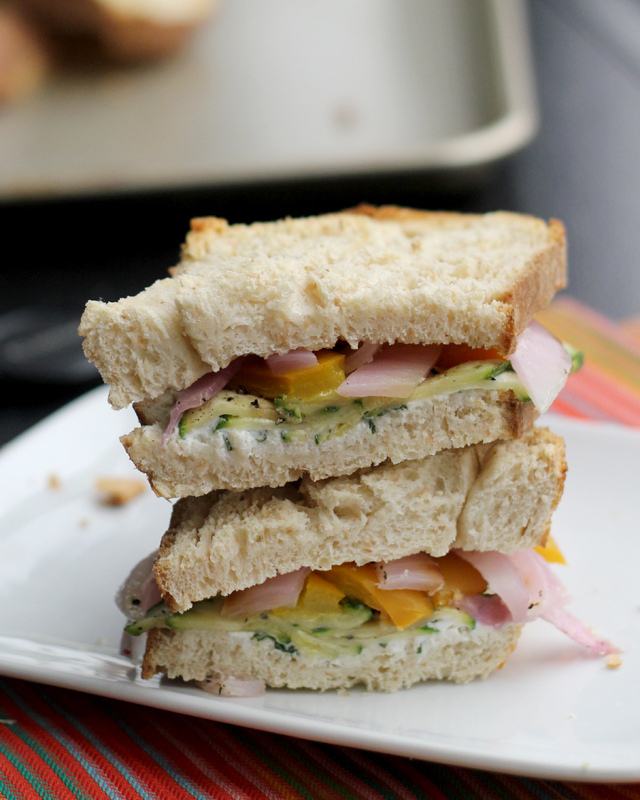 4 oz soft goat cheese
½ tbsp milk
2 tsp thinly sliced fresh mint
1 lb zucchini
2 thick slices red onion
1 yellow bell pepper, quartered
5½ tbsp olive oil, divided
kosher salt and freshly ground black pepper
8 slices sourdough bread
Preheat oven to 400.
In a small bowl, mix together the goat cheese, milk and mint. Set aside.
Slice the zucchini lengthwise into ¼-inch or ½-inch thick slices. If the zucchini is super long, you might want to cut it in half crosswise as well. Place on a parchment paper lined baking sheet (or two) in a single layer. Also add the pepper quarters and onion to the pans. Brush the veggies with olive oil and sprinkle with salt and pepper. Roast for 15 minutes or until zucchini is just tender.
Brush the bread slices with remaining olive oil and put in the oven to toast for 5-10 minutes, depending on just how toasty you want it.
To assemble the sandwiches, spread ¼ of the goat cheese mix on each of four slices of bread. Distribute the zucchini, bell pepper quarters, and onion among them. Top with the remaining bread slices. Cut in half and serve.
Recipe by
Joanne Eats Well With Others
at https://joanne-eatswellwithothers.com/2013/08/roasted-zucchini-pepper-onion-and-goat-cheese-sandwiches.html