Corn and Caraway Risotto with Swiss Chard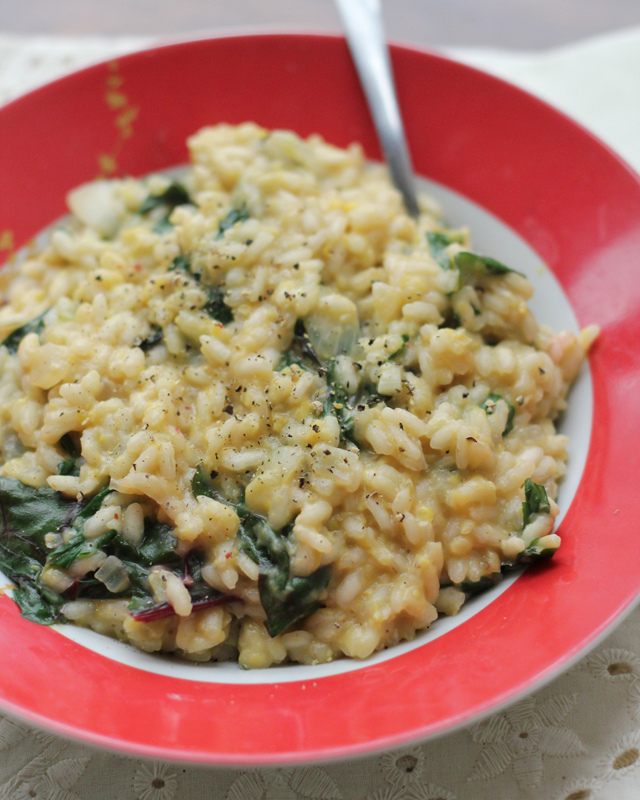 5 ears corn
7 cups vegetable broth
½ cup heavy cream
2 tbsp butter
1 onion, chopped
3 cloves garlic, minced
1 tsp ground caraway seed
2 cups arborio rice
2 bunches swiss chard, torn into bite-sized pieces
¼ tsp freshly ground black pepper
¼ cup grated parmesan cheese
salt, to taste
Cut the kernels off the corn and puree in a food processor. Set aside.
Bring the vegetable broth to a simmer and keep warm on low heat.
Melt the butter in a large nonstick skillet over medium heat. Add in the onion and cook for 3 minutes, until translucent and tender. Add in the garlic and ground caraway. Saute for 2 minutes. Stir in the rice and pureed corn, cooking for two minutes.
Add the broth a cup at a time, only adding more until the previous has almost completely evaporated, stirring constantly. With the last addition, stir in the heavy cream, swiss chard and ground black pepper. Remove from the heat and stir in the parmesan cheese. Season with salt to taste.
Serving size:
⅙th of recipe