Herb and Pistachio Falafel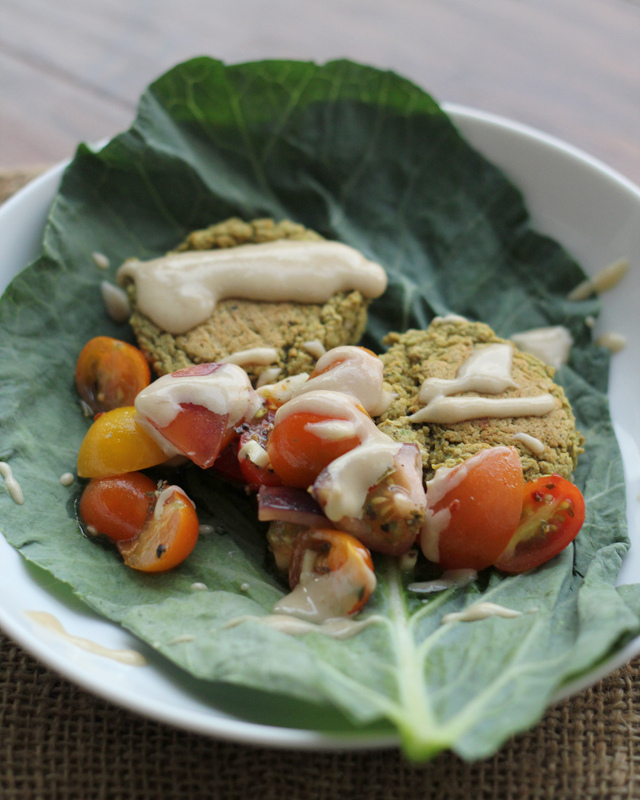 12 sprigs of mint
12 sprigs of cilantro
1 cup shelled pistachios
2 cups cooked chickpeas
2 garlic cloves
1 small yellow onion, quartered
3 tbsp olive oil
1 tsp ground cumin
1 tbsp flour
1 tsp baking soda
salt, to taste
2 cups cherry tomatoes, halved
1 tsp red pepper flakes
1 garlic clove
2 tbsp olive oil
1 tbsp fresh oregano, chopped
salt and black pepper, to taste
½ cup tahini
3 tbsp lemon juice
1 tbsp agave
2 garlic cloves, chopped
⅓ cup water
salt and freshly ground black pepper, to taste
Preheat oven to 375 and line a baking sheet with parchment paper.
In the bowl of a food processor, pulse together the mint and cilantro. Add in the pistachios and pulse again until chopped. Mix in the chickpeas, garlic, onion, oil, cumin, flour and baking soda. Process for 30 seconds, or until mostly pureed, scraping down the sides as needed. Season to taste with salt and black pepper.
Using your hands or a cookie scoop, form the dough into 20 falafels. Put them on the parchment lined baking sheets and bake for 14 minutes. Flip over and bake for another 15 minutes.
Meanwhile, make the tomato chili salsa by stirring together the tomatoes, red pepper flakes, garlic, olive oil, oregano, and salt and pepper to taste.
To make the tahini sauce, whisk together tahini, lemon juice, agave (or honey), garlic, water, and salt and pepper to taste. Add more or less water as necessary to get desired consistency.
Serve in collard green wraps or pitas.
Serving size:
⅕th of recipe