Zucchini-Walnut Cake with Cinnamon Honey Buttercream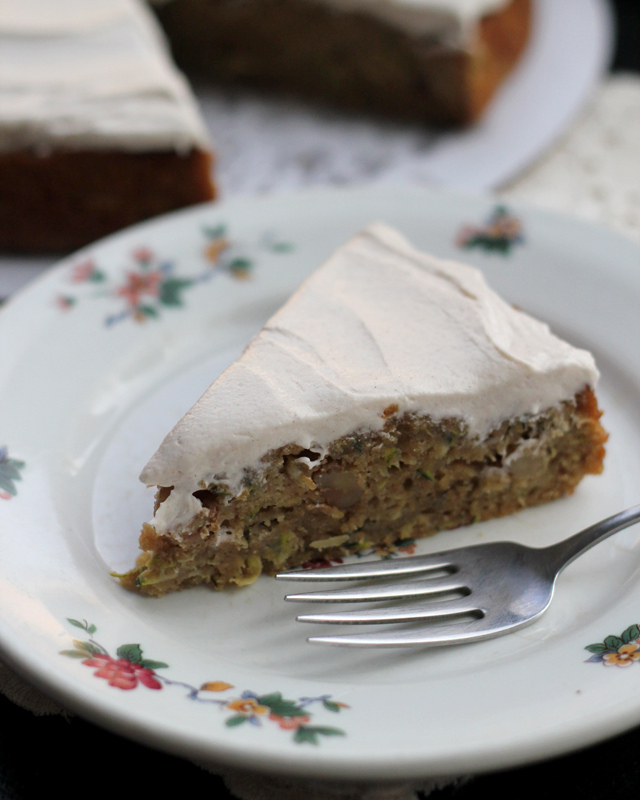 1½ cups all purpose flour
1½ tsp baking powder
1 tsp coarse kosher salt
1 tsp ground cinnamon
½ tsp ground ginger
¼ tsp ground nutmeg
¾ cup olive oil
1 cup brown sugar
3 large eggs
1 tsp vanilla extract
1½ cups coarsely grated zucchini (8 oz)
¾ cup chopped walnuts
4 oz butter, room temperature (1 stick)
1¼ cups confectioner's sugar
1 tbsp honey
⅛ tsp ground cinnamon
pinch of salt
Heat oven to 350. Line a 9" cake pan with parchment paper and spray with nonstick spray. Set aside.
In a medium bowl, whisk together the flour, baking powder, salt, cinnamon, ginger, and nutmeg.
In a large bowl, whisk together the oil, brown sugar, and vanilla. Mix in the eggs until well combined. Fold the dry ingredients into the wet ingredients, until just incorporated.
Mix the zucchini and walnuts into the cake batter until just incorporated. Pour into the prepared pan and bake for 40-45 minutes or until a toothpick inserted in the center comes out clean. Let cool completely before frosting.
For the frosting, in the bowl of a stand mixer fitted with a paddle attachment, cream together the butter, sugar, honey, cinnamon and salt until smooth and fluffy. Spread over the top of cake once it it is cool.
Adapted from
Bon Appetit
and
Martha Stewart
Serving size:
1/10th of recipe