Roasted Cauliflower with White Beans and Curried Raisin Jam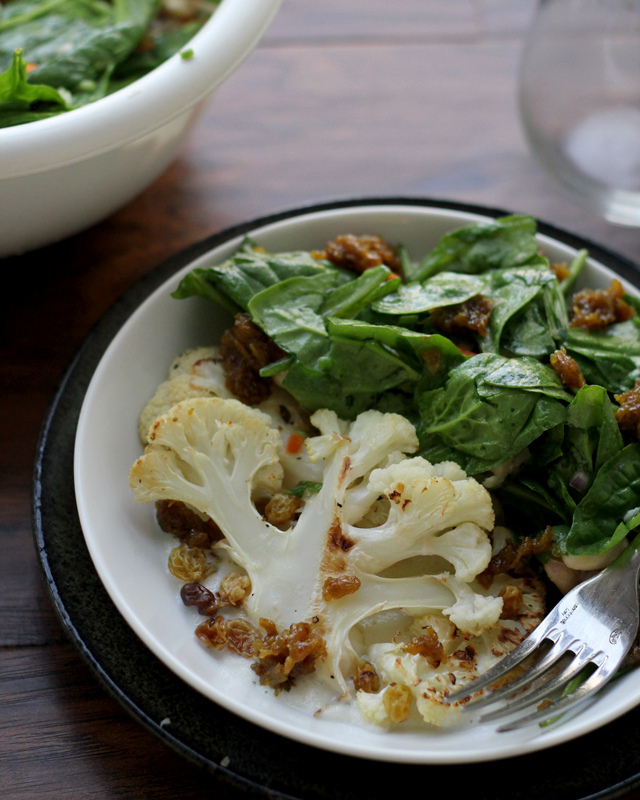 1 large head cauliflower
2 tbsp olive oil
salt and freshly ground black pepper
milk
1 cup dried white beans, soaked overnight and cooked until tender
1 large carrot, peeled and finely diced
1 shallot, peeled and finely diced
1 tbsp finely minced chives
½ cup golden raisins, plumped in warm water then drained
2 cups baby spinach
2 tbsp butter
1 small onion, minced
1 cup golden raisins
1 tsp madras curry powder
¼ tsp cayenne pepper
½ cup water
¼ cup white balsamic vinegar
¾ tsp dijon mustard
salt and freshly ground black pepper
¼ cup olive oil
Preheat oven to 400. Trim the outer leaves off the cauliflower. Using a long bladed knife, slice the cauliflower into ¾-inch slices, reserving any small florets or trim that falls off. Lay slices on a baking sheet lined with parchment paper. Brush with olive oil and season with salt and pepper. Roast, turning once, until browned and softened, about 10 minutes/side.
Meanwhile, place the small florets and trim that you set aside in a small saucepan. Add milk to cover them. Season with salt and pepper and bring to a simmer. Cook until soft. Puree in a blender. Season to taste.
To make the curried golden raisin jam, melt the butter over medium heat in a saucepan. Add the onions and cook for about 5 minutes. Add the raisins and curry powder. Cook, stirring, for 2 minutes. Add the water and simmer for 10 minutes or until water has evaporated. Place in a blender or food processor and puree, adding water as necessary until it is smooth.
For the white balsamic dressing, whisk together the balsamic, mustard, salt, pepper, and olive oil.
Toss the white balsamic dressing with the beans, carrots, shallots, chives, and spinach. Season to taste with salt and pepper.
To serve, on each plate spread a spoonful of the cauliflower puree. Arrange the roasted cauliflower, white bean salad, and raisins on the plate. Drizzle with the curried raisin jam.
Serving size:
¼ of recipe