Cinnamon-Apple Cupcakes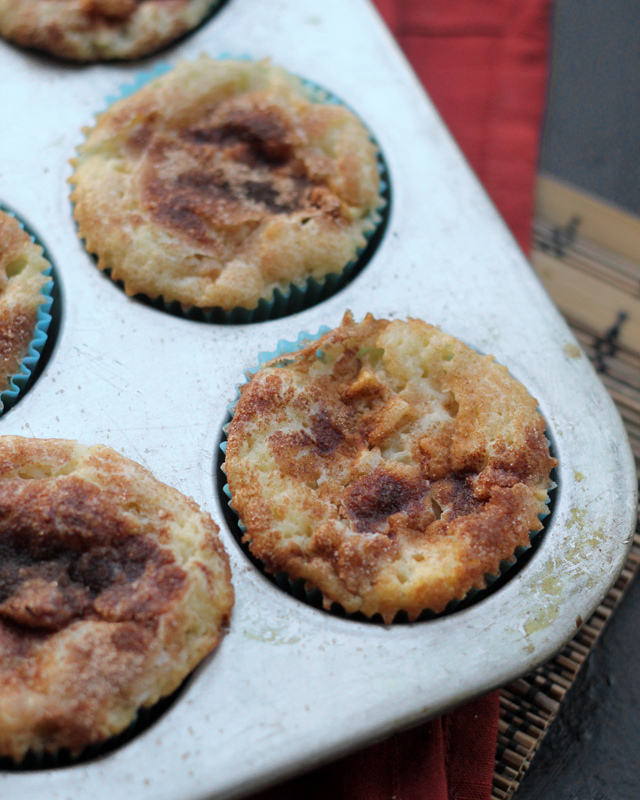 1¾ cups sugar, divided
½ cup butter, softened
1 tsp vanilla extract
6 oz nonfat Greek yogurt
2 large eggs
1½ cups flour
1½ tsp baking powder
¼ tsp salt
2 tsp ground cinnamon
2 granny smith apples, peeled and chopped
Preheat oven to 350.
In the bowl of a stand mixer fitted with the paddle attachment, cream together 1½ cups sugar, butter, vanilla, and Greek yogurt until combined, about 3 minutes. Add in the eggs one at a time, stirring well and scraping down the sides of the bowl after each addition.
In a separate bowl, whisk together the flour, baking powder and salt. Add into the batter, mixing on low speed until just combined.
In a small bowl, whisk together the remaining ¼ cup sugar and cinnamon. Toss the apple chunks with 2 tbsp of the cinnamon mixer. Fold apple pieces into the batter.
Line 2 cupcake tins with 18 liners. Divide the batter amongst the liners. Sprinkle the remaining cinnamon-sugar mixture over each cupcake.
Bake for 25 minutes, or until a toothpick inserted comes out clean. Let cool on a wire rack before serving.
Adapted from
The Best of Cooking Light: Over 500 of Our All-Time Greatest Recipes