Lasagna Formaggio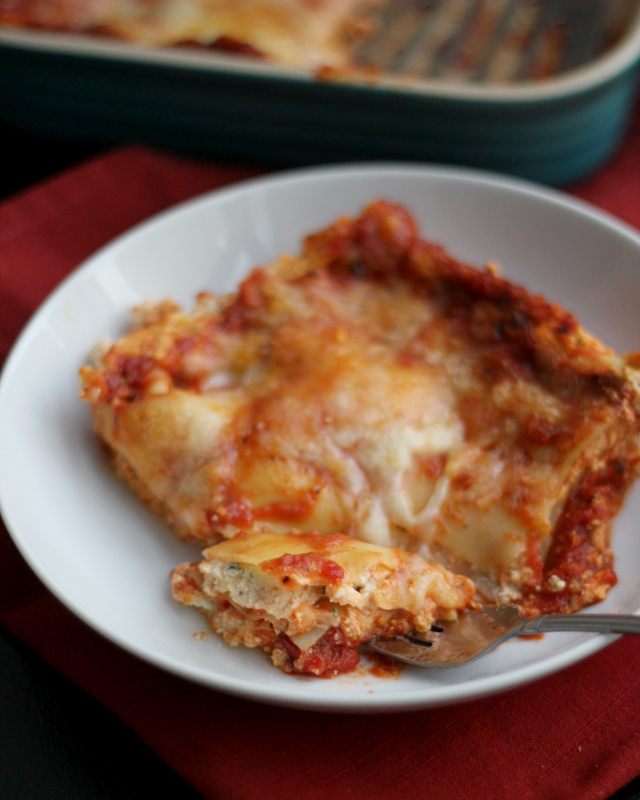 15 oz part-skim ricotta cheese
8 oz mozzarella, shredded, divided
1 egg
½ tsp garlic powder
½ tsp Italian seasoning
½ tsp parsley flakes
¼ tsp salt
⅛ tsp black pepper, ground
13 oz marinara sauce
6 lasagna noodles
⅛ cup grated parmesan cheese
Preheat the oven to 350.
In a bowl, whisk together the ricotta, ¾ cup of the mozzarella, egg, garlic powder, Italian seasoning, parsley flakes, salt and black pepper.
Spread about ½ cup of the sauce on the bottom of a 9x9-inch baking pan. Top with 2 of the lasagna noodles.Spread half the cheese mixture over the noodles. Add more sauce, another layer of noodles, and the remaining cheese mixture. Top with the remaining noodles and sauce, making sure to really cover the noodles with the sauce so they'll cook. Top with the remaining mozzarella and parmesan cheese.
Cover the pan with aluminum foil and bake for 45 minutes. Remove the foil and bake for 15 minutes more. Remove and let stand for 15 minutes before cutting.
Serving size:
⅙th of recipe