Fried Spelt Berries with Pickled Carrots, Kale and Eggplant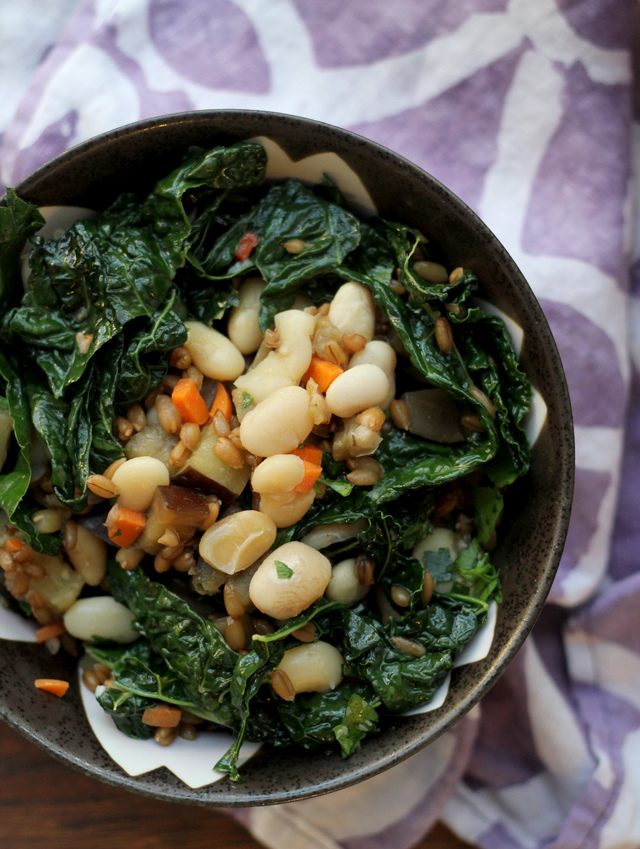 2 medium carrots, chopped
1 red chile, seeded and chopped
½ cup white wine vinegar
1 tsp sugar
1 tsp kosher salt
5 tbsp olive oil
1½ cups spelt berries, soaked overnight
2 garlic cloves, minced
1 eggplant, chopped into ½-inch dice
2 bunches lacinato kale, center ribs and stems removed, torn into strips
1 tbsp soy sauce
freshly ground black pepper
1 cup dried white beans, cooked until tender
½ cup parsley, minced
Put the carrots and the chile pepper in a small bowl. Bring the vinegar, sugar, salt, and ½ cup water to a boil. Give it a good stir and then pour the pickling liquid over the carrots and chile. Let sit for at least 30 minutes. Drain, reserving ¼ cup pickling liquid.
Put spelt berries in a pot and cover with salted water. Bring to a boil and simmer, covered, until tender, about an hour. Drain.
In the meantime, heat 3 tbsp olive oil over medium heat. Add the garlic and saute until fragrant, about 30 seconds. Add the eggplant and a pinch of salt. Cook, stirring frequently to ensure that the eggplant doesn't stick, until eggplant is cooked through - 5-7 minutes.Transfer eggplant to a separate plate.
Clean out the pan and heat the remaining olive oil over medium heat. Add in the cooked spelt berries and saute for 4 minutes. Stir in the kale and cook, tossing often, until kale is wilted. Stir in the soy sauce, eggplant, beans, freshly ground black pepper, reserved pickling juice and parsley. Cook until heated through.
Serving size:
⅙th of recipe
Recipe by
Joanne Eats Well With Others
at https://joanne-eatswellwithothers.com/2013/10/fried-spelt-berries-with-pickled-carrots-kale-and-eggplant.html