White Bean and Hominy Chili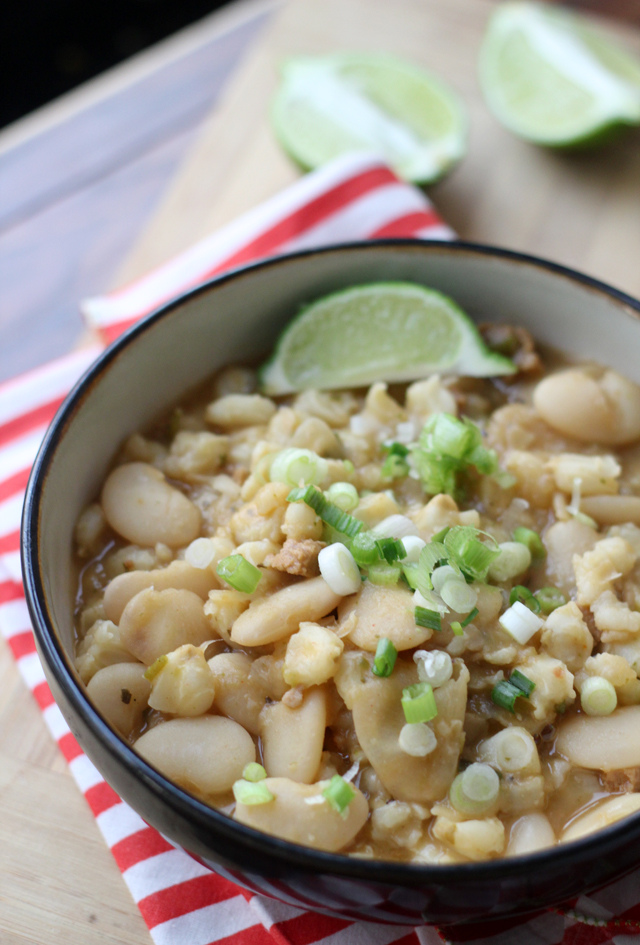 1 lb dried white beans, soaked overnight and boiled until tender
1 lb dried hominy, soaked overnight and boiled until tender
1 tbsp olive oil
1 vegetarian Mexican chipotle sausage, finely chopped
2 white onions, chopped
3 garlic cloves, minced
2 poblano chiles, seeded and chopped
2 tsp chili powder
1 tsp ground cinnamon
12 oz pumpkin beer
4 cups water
1 tsp dried oregano
2 tsp hot sauce
½ tsp salt, plus more to taste
2 tbsp thinly sliced scallions
2 tbsp chopped fresh oregano
lime wedges, for garnish
Mash ⅔ cup beans with a fork.
Heat a large pot over medium heat. Add the oil to the pan. Add the vegetarian sausage and saute for 4 minutes. Add the onion, garlic and poblanos and saute until tender, about 6 minutes. Add the chili powder and cumin and cook for 30 seconds, stirring constantly. Add the mashed beans, white beans, hominy, water, beer, oregano, hot sauce, and salt to the pot. Bring to a boil. Cover and simmer for 20 minutes or until thickened. Season to taste with salt and hot sauce.
Serve garnished with the scallions and lime wedges.