Eggplant Parmesan Burgers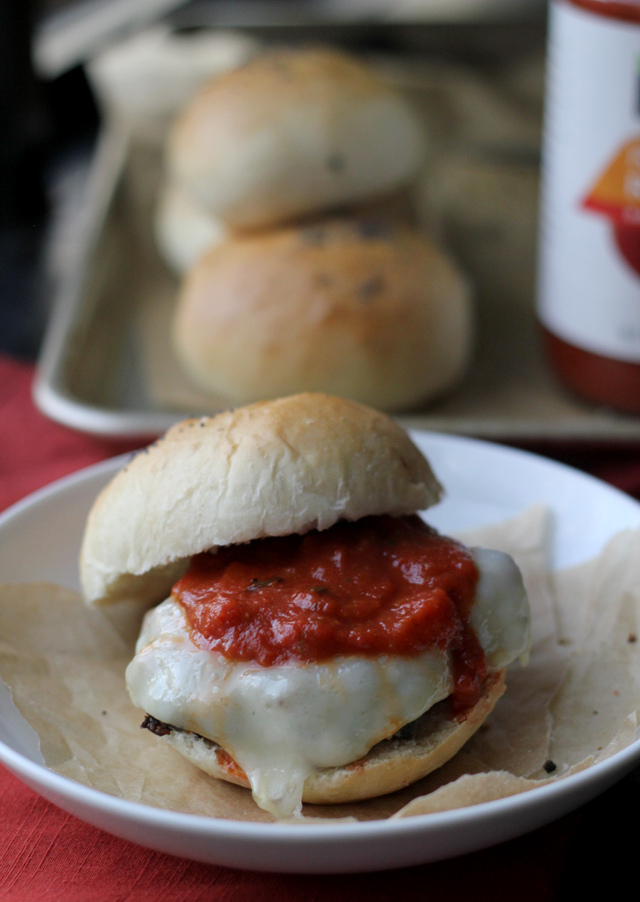 1 large eggplant (about 1 lb)
kosher salt
1 cup panko
¼ cup parmesan cheese
2 tbsp minced parsley
1 garlic clove, minced
freshly ground black pepper
1 egg, lightly beaten
marinara sauce
4 slices mozzarella cheese
Cut the eggplant into 1-inch cubes. Bring a pot of salted water to a boil. Add the eggplant and boil uncovered until eggplant is soft, about 10 minutes, pushing them down as necessary so that they stay in the water. Drain and let cool. Then press out as much water from the eggplant as possible (I used this Potato Ricer to do it). Very finely chop eggplant.
In a bowl, combine the eggplant with the breadcrumbs, cheese, parsley and garlic. Season to taste with salt and pepper. Mix in the egg.
Split eggplant mixture into four patties. Cook on an electric grill or shallow fry in olive oil for 3 minutes total, turning once halfway. Transfer to a plate lined with paper towels.
Preheat oven to 350.
When ready to serve, place each burger on a parchment-lined baking sheet. Cover with marinara sauce and a slice of mozzarella. Heat in the oven until cheese has melted, 2-3 minutes. Serve atop a burger bun.
Adapted from
My Calabria
via
Big Flavors From a Tiny Kitchen