Swiss Chard and Leek Migas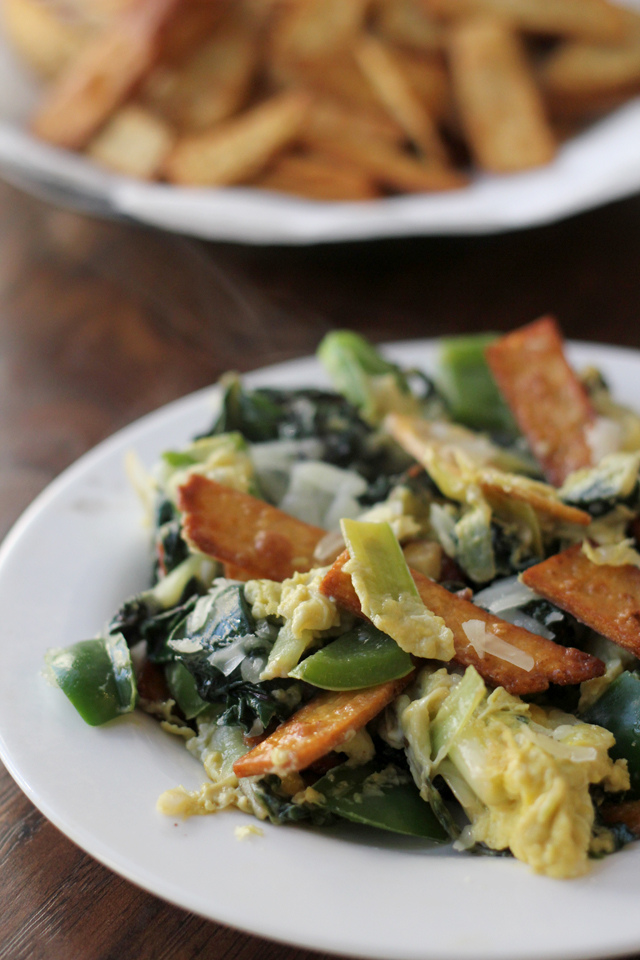 4 5-inch corn tortillas
1¼ cups vegetable oil, divided
10 large eggs
¼ cup heavy cream
salt, to taste
freshly ground black pepper, to taste
1 bunch swiss chard, leaves torn into thin strips
1 green bell pepper, coarsely chopped
1 leek, ends removed, chopped
2 large garlic cloves, minced
1 cup shredded Manchego cheese
To make the corn strips, cut the tortillas in half and then into thin strips. Heat 1 cup of vegetable oil in a large heavy-bottomed pot over medium-high heat. In batches, fry the tortilla strips for 1-2 minutes, or until browned and crispy, flipping them about halfway through. Remove to a paper towel-lined plate to cool.
Whisk the eggs and the heavy cream together in a large bowl. Season to taste with salt and pepper. Set aside.
Pour out the oil from the pan used for frying the tortilla strips. Add the remaining ¼ cup oil over medium heat. Saute the swiss chard until wilted, about 3 minutes. Add the leek and bell pepper and saute for another 2-3 minutes. Add the garlic and saute for 1 minute. Pour in the egg mixture and cook, stirring constantly, in a circular motion until the eggs begin to solidify. Stir in the fried tortilla strips. Continue cooking until eggs are cooked through.
Remove from heat, top with cheese, and serve.
Adapted from
The New Southwest
Serving size:
¼ of recipe