Spicy Three-Bean and Corn Chili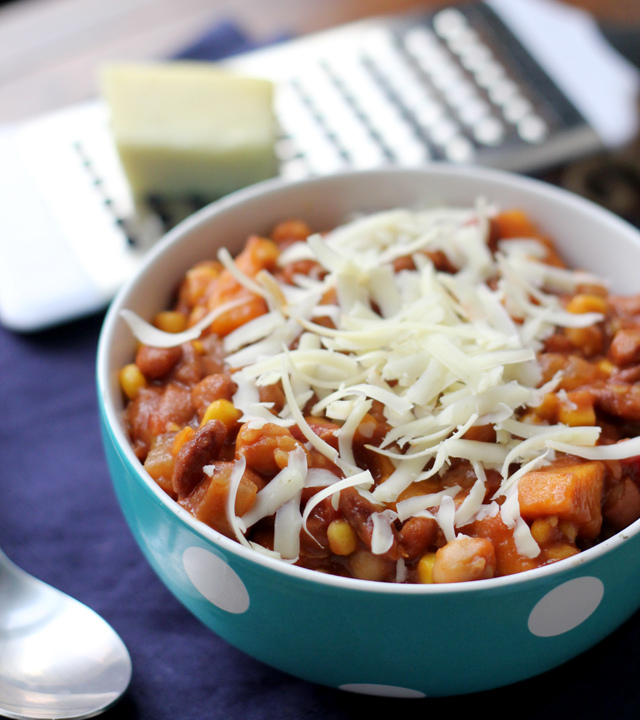 ⅔ cup dried chickpeas, soaked overnight
⅔ cup dried black beans, soaked overnight
⅔ cup dried pinto beans, soaked overnight
2 tbsp olive oil
1 onion, cut into ½-inch pieces
1 medium sweet potato, peeled and cut into ½-inch pieces
2 garlic cloves, minced
1 (15 oz) can corn kernels, drained
4 oz minced mild green chiles
28 oz canned diced tomatoes
1 tbsp sherry vinegar
2 tbsp brown sugar
1 tbsp ancho chili powder
1 tbsp smoked paprika
2 tsp cocoa powder
½ tsp freshly ground white pepper
salt, to taste
If using dried beans, put in a large pot and cover with salted water. Bring to a boil, then cover and simmer until tender, about an hour. Remove from the heat and drain, reserving the cooking liquid.
In a large pot, heat the olive oil over medium heat. Add in the onion, sweet potato and garlic. Cook over medium heat, stirring occasionally for 8 minutes, or until the vegetables are tender.
Add the drained beans, corn, chiles, and tomato to the pot. Stir to combine. Add in 4 cups of the bean liquid and bring to a simmer. Stir in the vinegar, brown sugar, chili powder, smoked paprika, and white pepper. Simmer for 30 minutes, stirring occasionally, or until the mixture thickens a bit. Season to taste.
Serve topped with cheese or sour cream.
Serving size:
⅙th of recipe