Pumpkin Pound Cake Cupcakes with Maple Cinnamon Glaze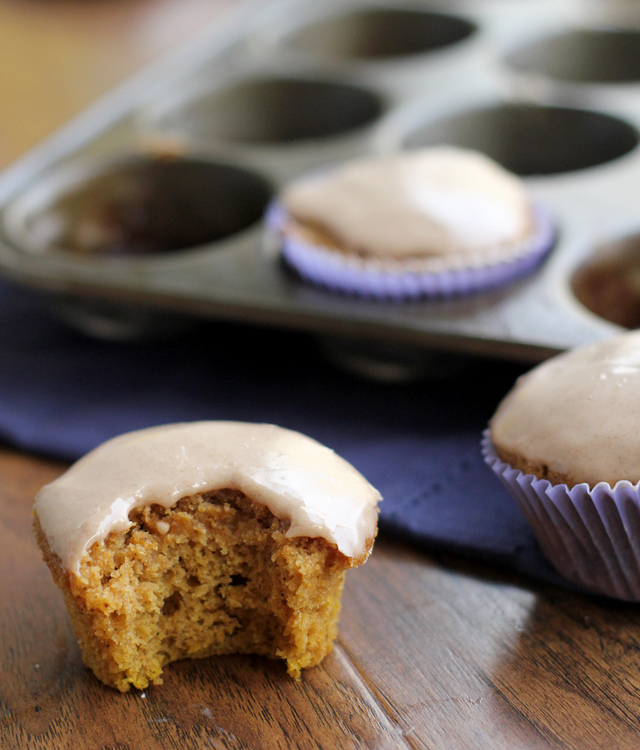 1½ cups flour
1 tsp baking powder
½ tsp baking soda
¼ tsp salt
1¼ tsp pumpkin pie spice
4 oz unsalted butter, room temperature
½ cup sugar
½ cup packed brown sugar
3 large eggs
¾ cup canned pumpkin
¾ tsp vanilla
1 cup confectioner's sugar
2 tbsp maple syrup
1 tbsp milk
½ tsp cinnamon
sea salt, to taste
For the cupcakes, heat oven to 350F. Line a cupcake pan with liners.
In a bowl, whisk together the flour, baking powder, baking soda, salt, and pumpkin pie spice.
In the bowl of a stand mixer fitted with a paddle attachment, cream together the butter and sugars. Mix in the eggs, one at a time, combining well after each addition. Mix in the pumpkin and vanilla.
Stir in the flour until just incorporated. Divide the batter among the cupcake liners, filling them ¾ full.
Bake for 15-20 minutes, or until a toothpick inserted in the center comes out clean.
Allow cupcakes to cool in the tins for 5 minutes and then remove to a wire rack to cool.
Once cupcakes are completely cool, make glaze. In a bowl, whisk together the confectioner's sugar, maple syrup, milk, and cinnamon. Add more milk as necessary to reach desired consistency. Dip cupcake tops in the glaze. Sprinkle with sea salt.