Maple-Gingerbread Layer Cake with Salted Maple Caramel Sauce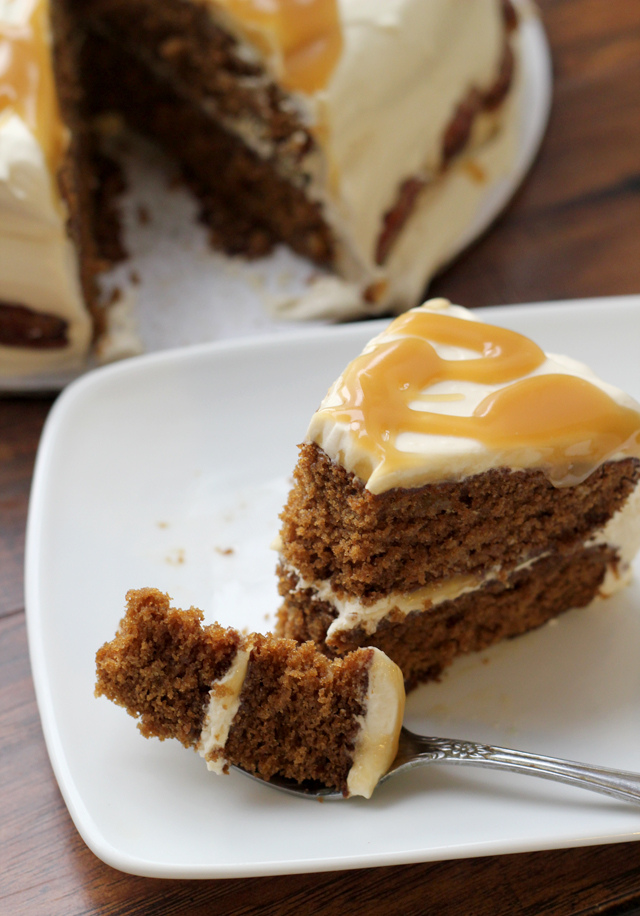 Yield:
A 9-inch double layer cake
¾ cup pecan halves, toasted
¼ cup pure maple syrup
¼ cup unsalted butter
½ cup maple sugar
¾ cup heavy cream
⅛ tsp sea salt, plus more to taste
⅛ tsp maple extract
2½ cups flour
1½ tsp Chinese five-spice powder
1 tsp baking soda
½ tsp coarse kosher salt
2 oz finely chopped crystallized ginger
1 cup maple sugar
¾ cup unsalted butter, room temperature
2 large eggs
¾ cup hot water
⅔ cup molasses
1 cup chilled creme fraiche
1¼ cup chilled heavy cream
½ cup brown sugar
6 tbsp confectioner's sugar
To make the pecans, combine the nuts and maple syrup in a heavy-bottomed skillet over medium-high heat. Stirring constantly, cook until the syrup starts to thicken and is almost cooked away, about 3 minutes. Scrape nuts onto a sheet of parchment paper and separate them so they are not touching. Sprinkle with coarse salt. Let cool for 1 hour.
For the caramel, melt the butter in a heavy medium saucepan over medium heat. Whisk in the sugar until it melts and starts to boil, about 2 minutes. Whisking constantly, slowly add the cream. Bring back to a boil and then allow it to thicken enough to coat a spoon and reduce in volume to a cup, whisking frequently, 2-3 minutes. Remove from the heat and whisk in the salt and maple extract. Set aside.
For the cake, preheat the oven to 350F. Grease and line two 9-inch cake pans with parchment paper.
In a large bowl, whisk together the flour, Chinese five spice, baking soda, salt, and crystallized ginger.
In the bowl of a stand mixer fitted with a paddle attachment, cream together the sugar and butter until fluffy, about 3 minutes. Add in the eggs one at a time, scraping down the sides of the bowl after each addition.
Mix together the hot water and molasses in a separate bowl. Add the flour mixture in four additions, interspersing it with the water/molasses mix. Mix together until just combined. Divide the batter evenly between the two cake pans. Bake for 30 minutes or until a toothpick inserted in the center comes out clean. Allow to cool in the pan for 10 minutes, then remove to a wire rack.
To make the frosting, combine the creme fraiche, heavy cream, and sugars in a large bowl. Beat with a mixer until stiff peaks form.
To assemble the cake, place one layer top down on a platter. Spread with 1 cup of the frosting. Drizzle 3 tbsp of the caramel over it.
Invert the second layer from it's pan and place it, top-down, on the first layer. Cover the tops and sides with the remaining frosting and drizzle with 3 tbsp of the caramel sauce. Decorate the sides with the pecans. Chill if not serving immediately.
Adapted from
Bon Appetit