Maple Bourbon Pumpkin Pie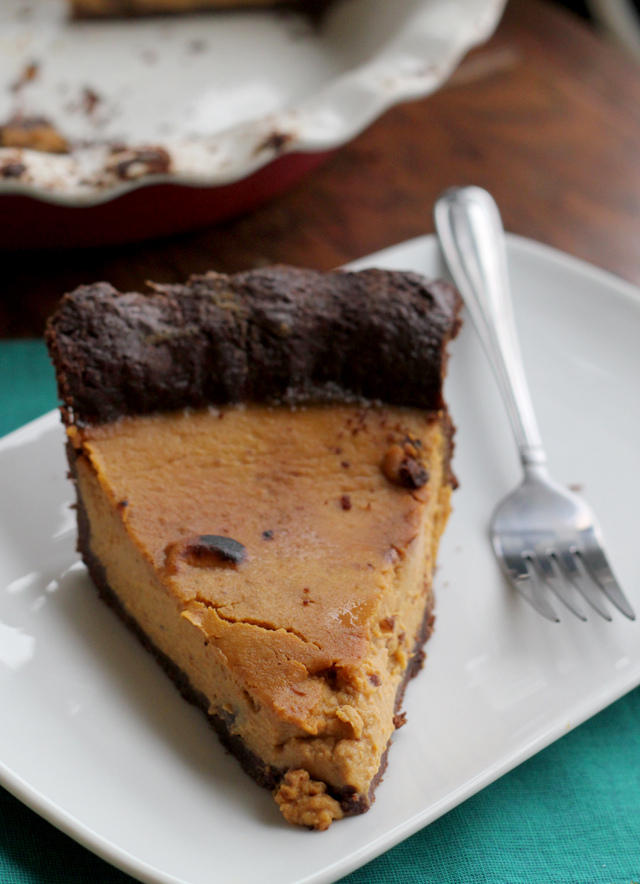 ¼ cup plus 1 tbsp Dutch process unsweetened cocoa powder
3½ tbsp sugar
1 tsp salt
1¼ cups plus 1 tbsp all purpose flour
8 tbsp chilled unsalted butter, cut into ½-inch pieces
1 large egg yolk
½ tsp apple cider vinegar
4 large eggs
15 oz canned pumpkin puree
¼ cup greek yogurt
2 tbsp bourbon
1 tsp ground cinnamon
½ tsp kosher salt
¼ tsp ginger
¼ tsp nutmeg
¾ cup pure maple syrup
1 tsp vanilla extract
1 cup heavy cream
For the pie dough, pulse the cocoa powder, sugar, salt and flour in a food processor to combine them. Add the butter to the processor and pulse until the mixture resembles coarse, wet sand.
In a small bowl, whisk together the egg yolk, vinegar, and ¼ cup ice water. Drizzle into the food processor and pulse until mixture starts to come together. Turn the dough out onto a lightly floured surface and pat it into a 1-inch thick disk. Wrap in plastic wrap and chill for at least an hour but up to 48 hours.
When ready to bake the pie, roll out the pie dough on a lightly floured work surface to a 14-inch round. Transfer to a 9-inch pie plate. Trim so that there is about a 1-inch overhang, folding the overhang under the pie and crimping, if desired. Chill in the freezer for 15 minutes.
Preheat the oven to 350. Line the pie with parchment paper and fill with dried beans. Bake until the crust is dry around the edges, about 20 minutes. Remove the beans and parchment paper and bake for 5 minutes more, or until crust looks dry. Brush the bottom and sides of the crust with a beaten egg. Return to the oven and bake for 3 minutes. Set aside while you make the filling.
In a bowl, whisk together the pumpkin, greek yogurt, bourbon, cinnamon, salt, ginger, and nutmeg. Whisk in the remaining 3 eggs. Set aside.
Pour the maple syrup into a small saucepan, along with the vanilla. Bring to a boil, then reduce heat to medium-high and simmer until mixture thickens, about 3 minutes, stirring frequently. Remove from the heat and slowly stir in the cream, stirring until smooth. Slowly whisk the hot maple cream into the pumpkin mixture.
Place the pie dish on a parchment-lined baking sheet and pour in the filling. Bake the pie, rotating halfway through, until it is set around the edges but the center barely jiggles, 50-60 minutes. Transfer to a wire rack to cool.
Adapted from
Bon Appetit