Butternut Squash and Caramelized Onion Galette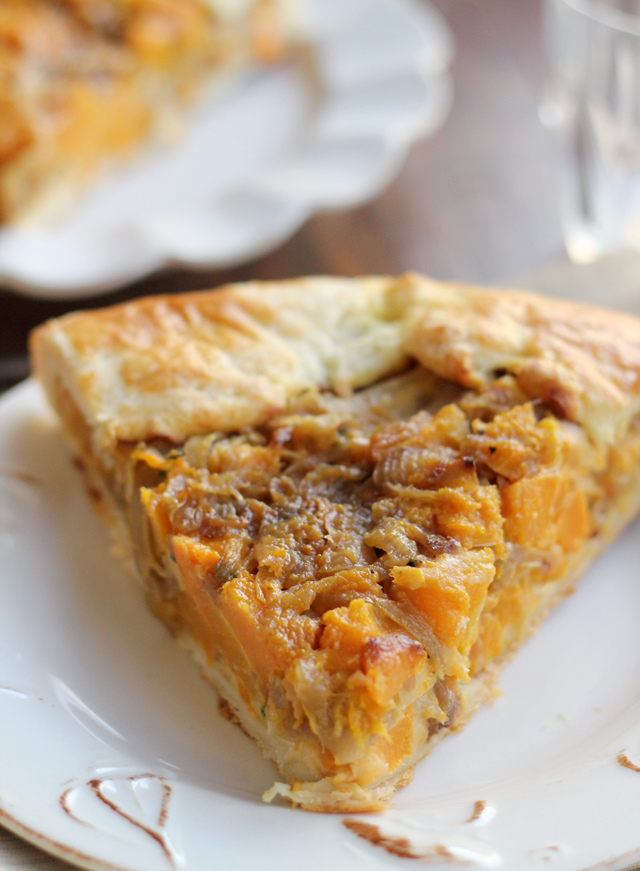 2½ cups all purpose flour
½ tsp salt
16 tbsp unsalted butter, chilled and cut into ½-inch cubes
½ cup Greek yogurt
1 tbsp white wine vinegar
⅓ cup ice water
1 large (2½ lb) butternut squash
3 tbsp olive oil
1½ tsp salt
freshly ground black pepper
1 tbsp butter
2 large Spanish or Vidalia onions, thinly sliced in half moons
¼ tsp sugar
¼ tsp cayenne pepper
2 cups grated fontina cheese
2 tsp chopped fresh sage
1 egg yolk beaten with 1 tbsp water, for glaze
For the crust, combine the flour and salt in the bowl of a food processor, pulsing to combine. Add the butter and pulse until the texture is like cornmeal, with the biggest butter pieces being the size of pebbles. Add in the sour cream, vinegar and water and pulse just until the dough comes together. Pat the dough into a ball, wrap it in plastic and chill it for at least one hour and up to two days.
While the dough is chilling, prepare the squash. Peel it, halve it and scoop out the seeds. Cut it into ½-inch cubes and toss with 2 tbsp olive oil. Spread out on a parchment-lined baking sheet in a single layer. Sprinkle with ½ tsp salt and black pepper. Roast at 400 for 30-45 minutes, stirring once halfway, until squash is tender. Set aside to cool slightly.
While the squash is roasting, melt the butter and the remaining tbsp olive oil in a heavy skillet. Add the onions and cook over medium-low heat, adding in the sugar and remaining tsp of salt. Stir occasionally, until soft and tender, about 20-25 minutes. Stir in the cayenne pepper.
Mix together the squash, onions, cheese, and sage in a large bowl.
On a floured work surface, roll out the dough into a 16--inch round. Transfer to a parchment-lined pizza pan or baking sheet. Spread the squash mixture over the dough, leaving a 2-inch border. Fold the border over the filling, pleating it as necessary, leaving the center open. Brush the outside of the crust with the egg/water mixture.
Bake at 400 until golden brown, 30-40 minutes. Remove from the oven and let stand 5 minutes before serving.
Adapted from
The Smitten Kitchen Cookbook