Roasted Acorn Squash and Brussels Sprouts with Honey, Smoked Paprika, and Sage Salt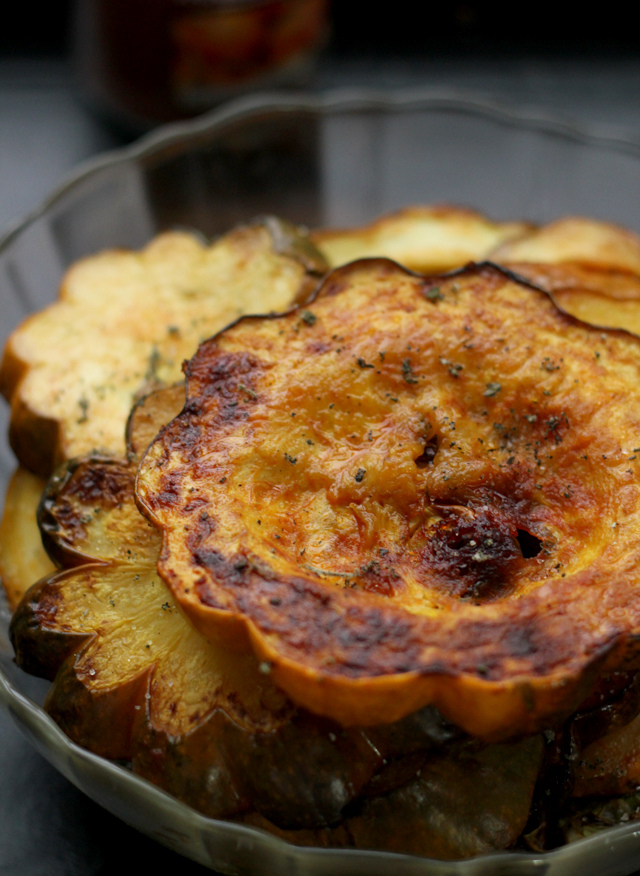 2 medium acorn squash, trimmed
1 lb brussels sprouts, trimmed and halved
4 tbsp olive oil
4 tsp honey
2 tsp smoked paprika
1 tsp kosher salt
4 large sage sprigs (about 16 leaves)
2 tsp coarse sea salt
Preheat the oven to 350. Slice the squash crosswise into ½-inch rings, scooping out the seeds from the center of each.
In a small bowl, whisk together the oil, honey, paprika, and kosher salt. Arrange the squash on a large baking sheet lined with parchment paper and the brussels sprouts on a second baking sheet lined with parchment paper. Brush the honey/oil mix over the acorn squash slices and toss the brussels sprouts with the rest. Place the sage leaves in a small baking pan.
Transfer all the pans to the oven. Roast the sage leaves until they are crisp, about 15 minutes. Set aside. Raise the oven temperature to 400. Continue roasting, turning the squash once midway through, for about 30 minutes.
Transfer the squash and brussels sprouts to a platter. Crumble the sage in a small bowl and mix with the coarse sea salt. Sprinkle some of the sage salt over the veggies before serving.
Adapted from
Cook This Now: 120 Easy and Delectable Dishes You Can't Wait to Make
Serving size:
⅛th of recipe
Recipe by
Joanne Eats Well With Others
at https://joanne-eatswellwithothers.com/2013/11/roasted-acorn-squash-and-brussels-sprouts-with-honey-smoked-paprika-and-sage-salt.html