Bouchon Bakery Chocolate Chunk and Chip Cookies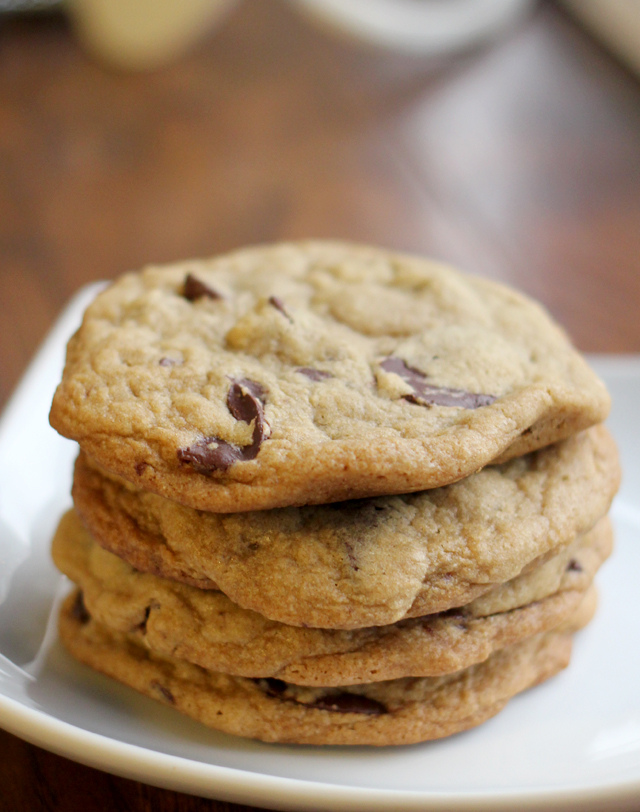 238 grams all purpose flour
½ tsp baking soda
1 tsp salt
134 grams dark brown sugar
1¾ tsp unsulfured blackstrap molasses
104 g sugar
⅔ cup bittersweet (70-72%) chocolate chunks
½ cup chocolate chips
167 g unsalted butter, room temperature
60 grams eggs
In a medium bowl, whisk together the flour, baking soda, and salt. In a second small bowl, whisk together the dark brown sugar, molasses and regular sugar, breaking up any lumps, even though the mixture will not be smooth.
In the bowl of a stand mixer fitted with the paddle attachment, cream the butter until it is the consistency of mayo and holds a peak when the paddle is lifted. Add in the sugar/molasses mixture and mix for 3-4 minutes on medium speed, until fluffy. Scrape down the sides of the bowl.
Add in the eggs and mix on low speed for 15-30 seconds. If you mix the eggs too much, they will cause the cookies to spread out too much, so be conservative. Scrape down the bowl.
Add in the dry ingredients in 2 additions, mixing on low speed for 15-30 seconds after each, until just combined. Add the chocolates and pulse on low speed about 10 times to combine. Refrigerate the dough for 30 minutes.
Position racks in the upper and lower thirds of the oven and preheat to 325. Line two baking sheets with parchment paper.
Divide the dough into 12 equal portions, about 70-75 grams each. Place six rounds of dough on each sheet. Bake until golden brown for 16 minutes, reversing the positions of the pans halfway through. Allow to cool for five minutes on the pan, and then remove to a cooling rack.
Adapted from
Bouchon Bakery