Brown Butter Basil Shortbread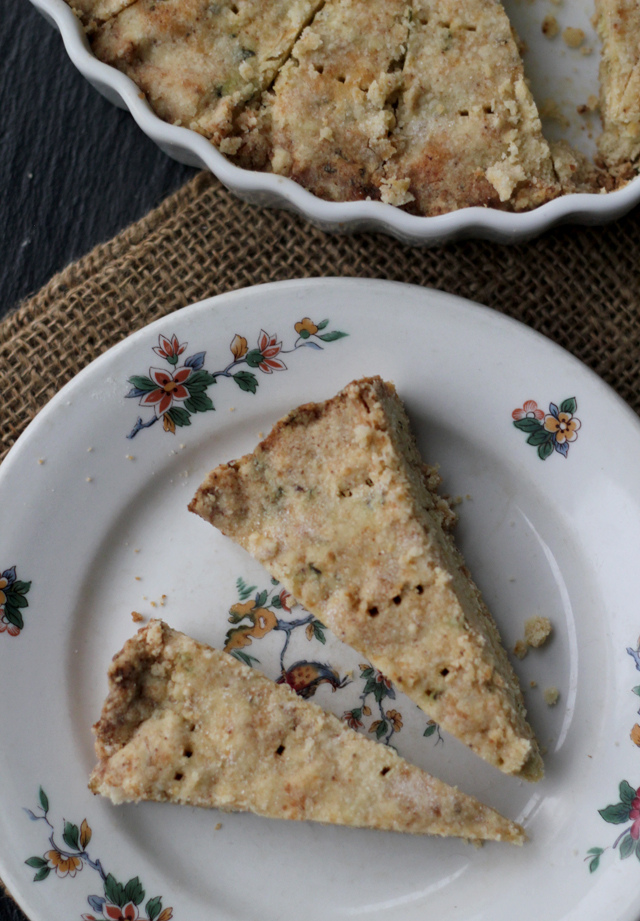 1 cup + 5 tablespoons unsalted butter
2 tbsp minced fresh basil
¾ cup sugar, plus more for sprinkling
¾ teaspoon salt
2 large egg yolks
3 cups all purpose flour
Grease a 10-inch tart pan and set aside. Preheat oven to 375F.
Put the butter in a medium saucepan over medium-low heat. Melt, stirring frequently, and cook until the butter is an amber/brown color and smells nutty. Remove immediately from the heat and pour it into a separate bowl. Allow to cool a bit.
In a medium bowl, whisk together the brown butter, basil, sugar and salt. Whisk in the egg yolks.
Using a rubber spatula, stir in the flour until totally incorporated. Pat the dough into the prepared pan and let chill for 30 minutes.
Sprinkle the top of the dough with a bit of sugar before baking to ensure that it browns evenly. Poke holes all over the dough with a fork, making sure the holes go all the way through to the bottom of the pan. This will ensure that the shortbread doesn't spread and rise while baking! You really want it to be a compact buttery crunchy cookie.
Bake for 35-40 minutes or until the top starts to turn golden brown. Remove from the oven and immediately cut into wedges. Serve either plain with a steaming cup of coffee or hot chocolate for dunking, with a scoop of vanilla ice cream on top, or with a dash of whipped cream!
An Eats Well With Others Original
Recipe by
Joanne Eats Well With Others
at https://joanne-eatswellwithothers.com/2013/12/brown-butter-basil-shortbread.html