Sprinkle Cookies #fbcookieswap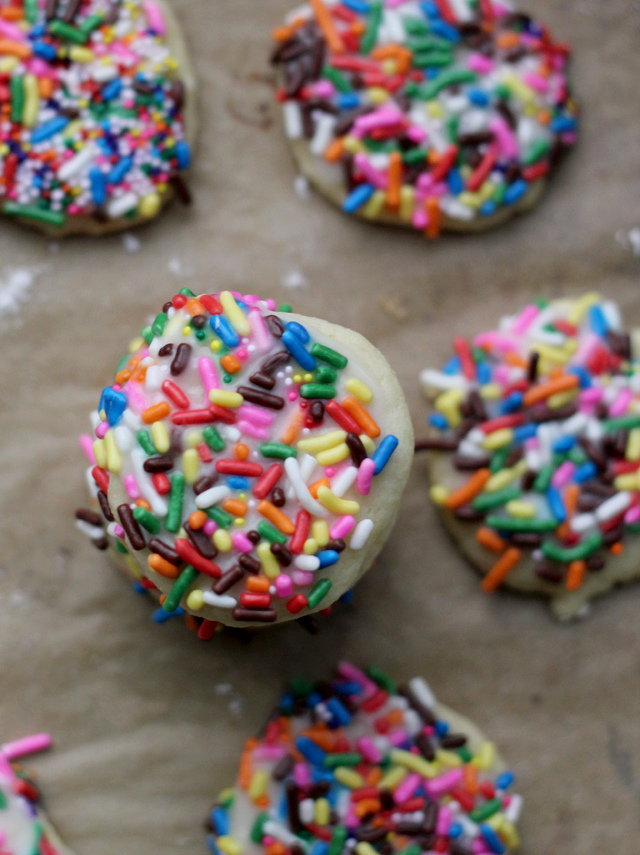 1½ sticks unsalted butter, softened
1 cup sugar
2 large eggs
1 tsp vanilla
2½ cups flour
1 tsp baking powder
½ tsp salt
2½ cups powdered sugar
¼ cup water
½ tsp almond extract
3 oz rainbow sprinkles
Preheat the oven to 400F. Line a baking sheet with parchment paper.
In a stand mixer fitted with the paddle attachment, cream together the butter and sugar on medium speed until fluffy, about 3 minutes. Add in the eggs and vanilla, and mix until combined.
In a separate bowl, whisk together the flour, baking powder and salt. Mix into the batter, until just incorporated.
Cover and refrigerate for at least an hour.
On a lightly floured workspace, roll out the dough to about ¼-inch. Cut out cookies using a 1½ to 2-inch round cookie cutter and place on parchment-lined baking sheet, about 1-inch apart. Bake for six minutes. Remove and let cool on a wire rack. Repeat until all the cookie dough is gone, rerolling the dough as needed.
For the glaze, whisk together the powdered sugar, water, and almond extract. Pour the sprinkles into a shallow bowl. Dip each cookie top-down into the glaze, then dip again into the sprinkles so that they cover the top of each cookie. Let set on wire rack before serving.
Serving size:
1-2 cookies