Cranberry Royale Sorbet Chocolate Chip Cookie Sandwiches {#glutenfree}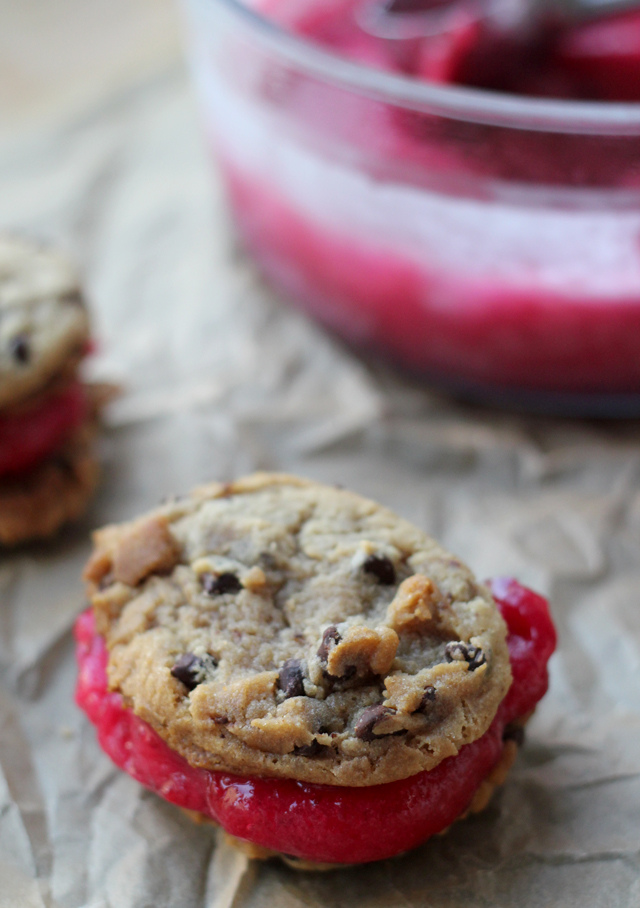 2 grapefruits
12 oz cranberries (fresh or frozen)
1 cup plus 2 tbsp water
¼ cup light corn syrup
1½ cups sugar
For the sorbet, use a vegetable peeler to remove three large strips of zest from the grapefruits. Set aside.
Squeeze ¾ cup of juice from the grapefruits.
In a 4 quart pot or saucepan, combine the grapefruit juice, zest strips, cranberries, water, corn syrup and sugar. Bring to a boil, and then continue boiling just until the cranberries begin to pop, about 5 minutes. Remove from the heat and let cool.
Remove the grapefruit zest from the pot. Pour the cranberry mixture into a metal bowl and place in the freezer, stirring every 30 minutes or so until cold but not frozen, about 30 minutes.
Pour the cranberry sorbet base into a frozen ice cream maker canister and churn until it is the consistency of very softly whipped cream, about 25-30 minutes.
Put the sorbet into a storage container. Press a sheet of parchment paper against the top, and seal with an airtight lid. Freeze until firm, at least 4 hours.
In the meantime, make the cookies. Preheat the oven to 350. On a parchment-lined baking sheet, scoop the Pillsbury Gluten Free Chocolate Chip Cookie Dough by the tbsp onto the parchment paper. You should get 16 cookies. Bake for 11-13 minutes or until the tops are golden brown. Remove from the oven and let cool on the pan for 2 minutes. Remove to a wire rack to cool completely.
Scoop the sorbet onto half the cookies and top with a second cookie. Serve immediately or wrap in plastic wrap and place in freezer to refreeze until ready to serve.
Sorbet from
Jeni's Splendid Ice Creams at Home