Spinach with Yellow-Eyed Peas and Fried Eggs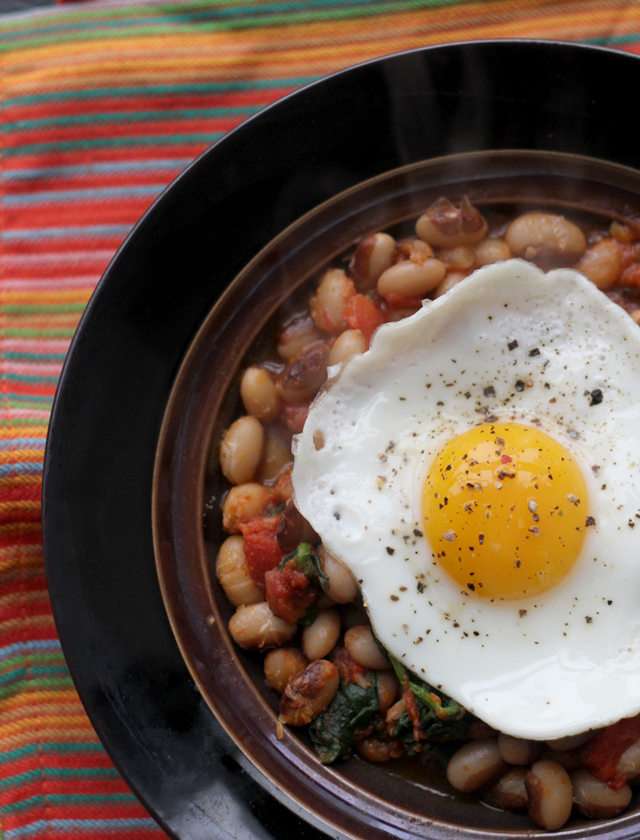 3 tbsp olive oil, divided
4 garlic cloves, thinly sliced, divided
8 cups baby spinach
salt and freshly ground black pepper, to taste
1 onion, chopped
1 tsp cumin seeds
¼ tsp smoked paprika
1 lb dried beans, soaked overnight and boiled until tender or 2 (15 oz) cans chickpeas
28 oz canned diced tomatoes
3 cups vegetable broth
4 large eggs
Heat 1 tbsp olive oil in a large heavy skillet. When the oil begins to shimmer, add 1 garlic clove worth of garlic. Stir until it starts to brown. Add the spinach to the pot and toss to coat. Season to taste with salt and pepper. Cook until wilted. Transfer to a medium bowl and set aside. Wipe out skillet.
Heat the remaining olive oil in the same skillet over medium heat. When the oil begins to shimmer, add the onion and remaining garlic. Cook until onion is softened, about 3 minutes. Add the cumin and paprika and cook, stirring constantly, 1 minute. Add the beans and tomatoes, stirring to combine. Cook for 8-10 minutes.
Add the broth and bring to a simmer. Reduce the heat to medium and simmer for 20 minutes, or until sauce is thickened. Stir in the spinach. Simmer for an additional 10 minutes.
Fry eggs, two at a time, in a bit of oil in a medium skillet. Spoon the chickpea stew into four bowls and top each with a fried egg. Serve.
Adapted from
Bon Appetit
Serving size:
¼ of recipe