Cauliflower Soup with Chive Oil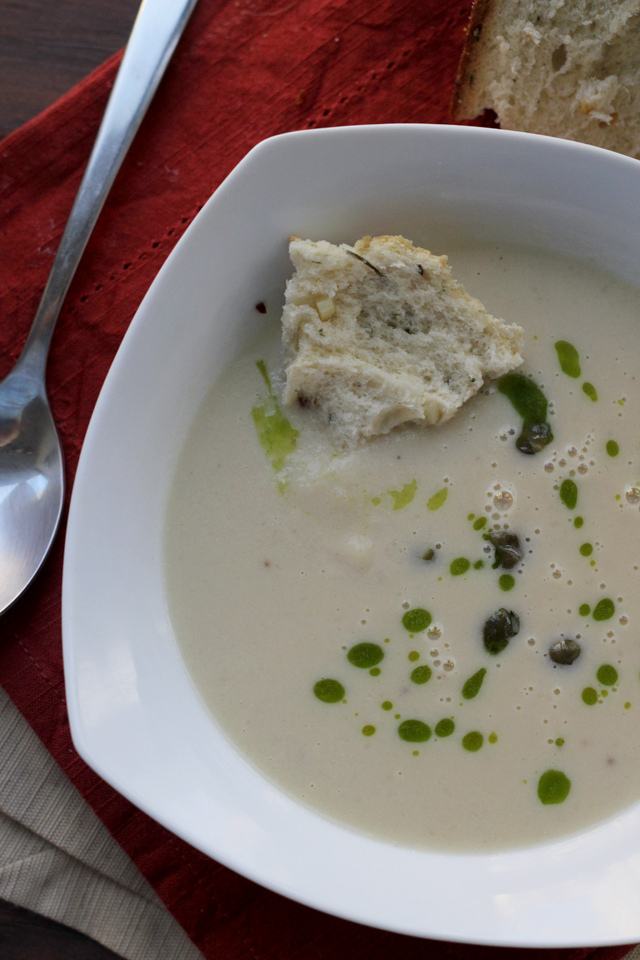 1 sweet onion, finely diced
1 tbsp olive oil
3 tbsp unsalted butter, divided
1 large head of cauliflower, cut into florets
3 cups vegetable broth
1 cup water
½ cup milk
¼ cup capers, drained and patted dry
salt and pepper, to taste
¼ cup chopped chives
4 tbsp olive oil
In a large pot over medium heat, melt 1 tbsp butter with olive oil. Add in the onion, along with a pinch of salt, and cook until softened, about 5 minutes. Add in the cauliflower and vegetable broth. Bring to a boil, then lower the heat and let simmer for 20-25 minutes or until cauliflower is soft.
Puree with an immersion blender. Add in the milk and water, stirring until incorporated. Stir in remaining butter. Season to taste with salt and pepper.
To fry the capers, add a tsp of olive oil to a small skillet. Add the dry capers and cook for 1-2 minutes, stirring or shaking the pan frequently, until they start to brown. Set on a paper towel to dry and cool.
To make the chive oil, combine the chives and olive oil in a food processor and puree. Push through a strainer into a small bowl.
To serve, divide the soup among four bowls and top with capers and some chive oil.