Italian Shortbread Jam Tart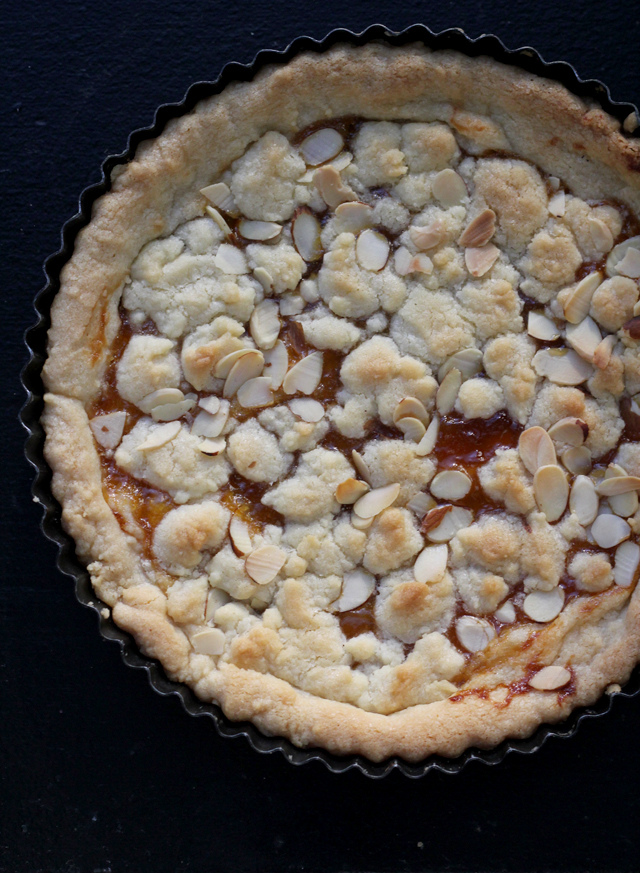 12 tbsp unsalted butter, softened
½ cup sugar
¼ tsp pure almond extract
1½ cups all purpose flour
⅛ tsp salt
¼ cup apricot jam
⅓ cup sliced natural almonds
Heat oven to 350.
In the bowl of a stand mixer fitted with a paddle attachment, cream together the butter and sugar on medium-high speed until light and fluffy, about 3 minutes. Scrape down the bowl and then add the almond extract, mixing until combined, about 30 seconds.
In a separate bowl, whisk together the flour and sugar. Add the dry ingredients into the butter mixture and mix until just combined. Set aside ½ cup dough. Spread it out onto a plate and put the plate in the freezer. Press the remaining dough into a 9-inch tart pan, evenly.
Using a small offset spatula, spread the apricot jam evenly over the tart, leaving a 1-inch edge all around.
Remove the reserved dough from the freezer and sprinkle it over the tart, allowing some jam to still peek through. Sprinkle with the sliced almonds.
Bake for 40-50 minutes, or until the tart becomes golden brown. Cool on a wire rack before serving.