Slow Cooker Winter Ratatouille with Goat Cheese Polenta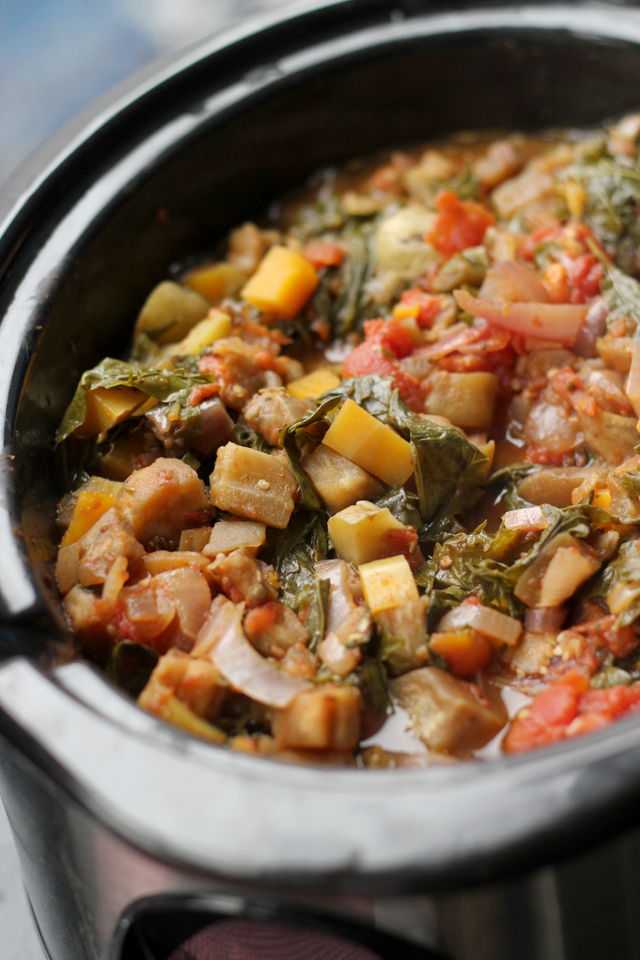 2 large eggplants, peeled and cut into ½-inch pieces
2 tbsp coarse salt, plus more to taste
1 small butternut squash, peeled, seeded and cut into ½-inch pieces
1 lb fingerling potatoes, quartered
1 bunch kale, stemmed and coarsely chopped
2 tbsp butter, divided
1 tbsp olive oil
2 medium red onions, halved and thinly sliced
3 cloves garlic, minced
¼ cup all purpose flour
¼ cup tomato paste
28 oz whole peeled tomatoes
1 tbsp Italian seasoning
1 cup vegetable broth
freshly ground black pepper, to taste
1 cup coarsely chopped fresh basil
4 cups vegetable broth
2 cups water
1½ tsp salt
1½ cups polenta
4 oz goat cheese
freshly ground black pepper
Put the eggplant in a colander and sprinkle with the salt, tossing to combine. Let sit on a paper towel to drain for 45 minutes.
Meanwhile, prepare the remaining vegetables. Grease the slow cooker with olive oil. Add the butternut squash, fingerling potatoes, and kale to to the slow cooker, tossing to combine.
Melt 1 tbsp butter in a medium pot over medium heat. Add in the onions and garlic, along with a pinch of salt. Saute for 5-8 minutes, or until onions are tender. Add to the slow cooker.
In that same pot, melt 1 tbsp butter with 1 tbsp olive oil. Whisk in the flour and tomato paste. Stir constantly until flour combines with the paste. Slowly stir in the whole peeled tomatoes. Simmer, mashing the potatoes against the side of the pot, until mixture thickens slightly, about 10 minutes. Stir in the Italian seasoning and vegetable broth. Add to the pot.
Rinse the eggplant of the salt and add to the slow cooker. Add in freshly ground black pepper and stir to combine. Cook on low for 8 hours, stirring halfway through.
Before serving, stir in the basil and remove from heat.
For the polenta, bring the vegetable broth and water to a boil. Stir in the salt. Slowly whisk the polenta into the boiling water and lower to a simmer. Simmer until polenta reaches desired consistency, stirring frequently, anywhere from 15-30 minutes. When polenta is done, stir in the goat cheese and black pepper.
Serve ratatouille atop a big scoop of polenta.
An Eats Well With Others Original
Recipe by
Joanne Eats Well With Others
at https://joanne-eatswellwithothers.com/2014/01/slow-cooker-winter-ratatouille-with-goat-cheese-polenta-giveaway.html