Bouchon Bakery Coffee Cake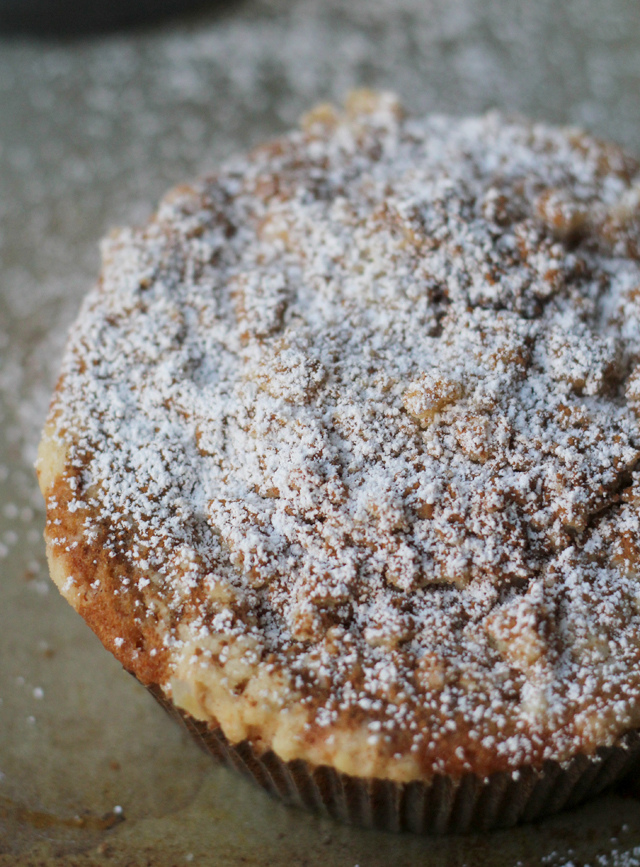 203 g all-purpose flour
1⅛ tsp baking powder
⅜ tsp baking soda
½ tsp salt
75 g unsalted butter, room temperature
210 g sugar
75 g eggs
1 tbsp vanilla bean paste
1 cup creme fraiche
60 g all-purpose flour
60 g almond flour
60 g sugar
⅛ tsp kosher salt
60 g cold unsalted butter, cut into ¼-inch pieces
15 g light brown sugar
15 g unsweetened cocoa powder
powdered sugar and cinnamon, to garnish
First, make the almond streusel topping. Whisk together the all-purpose flour, almond flour, sugar and salt in a bowl. Add the butter and toss to coat the pieces in flour. Using your fingers, combine the butter with the flour mixture, breaking it into small pieces until it is no larger than ⅛ inch. Put in the freezer while you prepare the batter.
For the batter, whisk together the flour with the baking powder, baking soda and salt in a bowl.
In the bowl of a stand mixer fitted with the paddle attachment, cream together the butter and the sugar and mix on medium speed for 2-3 minutes, or until fluffy. Scrape down the sides of the bowl. Add in the eggs and vanilla bean paste. Mix for about 30 seconds on low speed, or until just combined.
Add the flour mixture and creme fraiche, alternating between the two, in three additions each, beating for about 15 seconds after each addition. Cover the batter and refrigerate for about 20 minutes.
Meanwhile, preheat the oven to 325. Spray six 4¼-inch round paper baking molds or springform pans with cooking spray. Set them on a sheet pan.
Whisk together the brown sugar and cocoa powder.
Transfer half of the batter to a pastry bag, and pipe it into a spiral in the bottom of each mold. Dust with about 2 tsp of the cocoa/brown sugar mixture. Transfer the remaining batter to the pastry bag and pipe a second spiral over the cocoa layer. Sprinkle the tops with the cold streusel, about 3 tbsp each.
Bake for 35-40 minutes, or until the tops are golden and a skewer inserted in the center comes out clean. Set on a cooling rack to cool.
Before serving, dust coffee cakes with cinnamon and powdered sugar.
Recipe from
Bouchon Bakery