Spicy Chard Mac 'n' Cheese Bites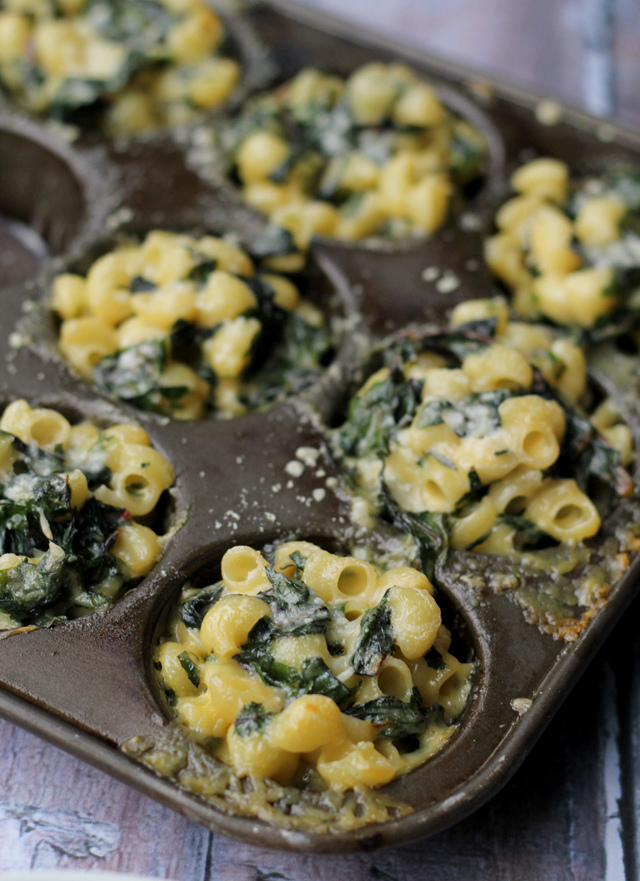 2 bunches swiss chard, destemmed and coarsely chopped
½ lb elbow or other small macaroni
1½ tbsp butter
2 tbsp flour
¾ cup milk
8 oz Cooper Deli Yellow American cheese
4 oz pepperjack cheese
1 egg yolk
¼ cup parmesan cheese
Heat oven to 425.
Heat ½ cup water in a large pot. Add in the chard and steam until wilted, about 2-3 minutes. Remove from pot and let cool. Squeeze out as much water as possible and finely chop. Set aside.
Bring a large pot of salted water to a boil. Boil the macaroni for 5 minutes, then strain and toss with the chard.
In a small pot, melt the butter. Whisk in the flour and, whisking constantly, cook for 2 minutes. Slowly whisk in the milk. Bring to a boil. Stir in the cheeses and cook until milted, stirring constantly. Remove from the heat and stir in the egg yolk.
Mix the cheese sauce with the pasta and chard.
Grease two muffin tins. Scoop the batter among 14 of the cups, really packing it in. Sprinkle with the parmesan cheese.
Bake for 10-15 minutes, or until top is starting to brown. Let cool for 5 minutes before serving.
An Eats Well With Others Original
Recipe by
Joanne Eats Well With Others
at https://joanne-eatswellwithothers.com/2014/01/spicy-chard-mac-n-cheese-bites-cooper-deli-cheese.html