Oven-Baked Brown Rice and Eggplant Casserole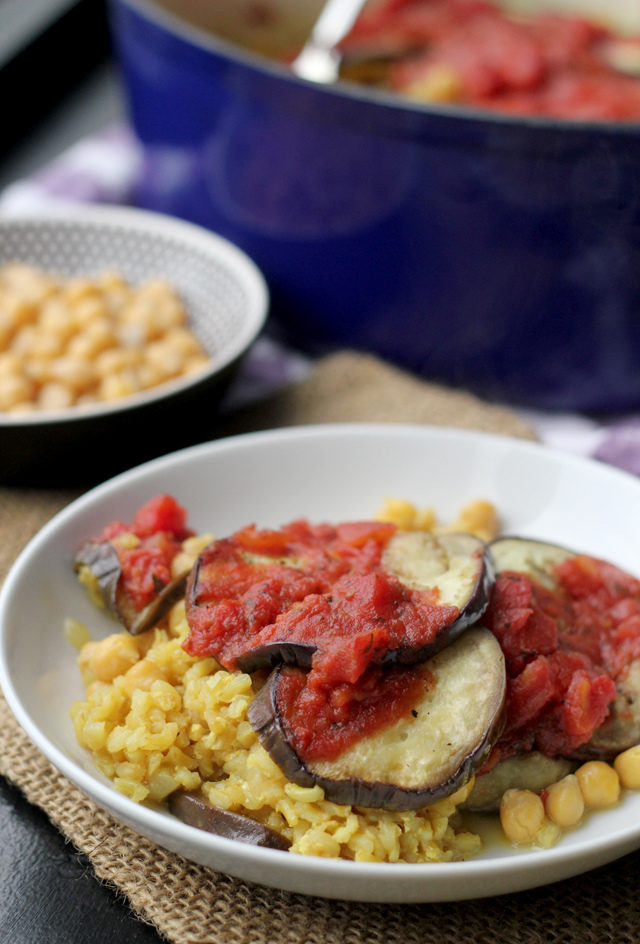 1 tbsp olive oil, plus more for eggplant
1 large onion, diced
2 tsp garlic, minced
½ tsp salt, plus more for eggplant
¼ tsp black pepper
¼ tsp turmeric
2 packages Uncle Ben's Whole Grain Brown Ready Rice (or 4 cups cooked brown rice)
2 cups vegetable broth
1 small eggplant
1 cup greek yogurt
½ lb dried chickpeas, soaked overnight and boiled until tender
14 oz canned diced tomatoes
Heat 1 tbsp olive oil in a medium saucepan over medium heat. Add the onion to the pan and saute until starting to brown, 3-4 minutes. Add in in the garlic, salt, black pepper, and turmeric. Saute for 1 minute, stirring constantly. Stir in the brown rice and vegetable broth. Bring to a boil, then cover and simmer for 30 minutes.
In the meantime, slice the eggplant crosswise into ¼-inch thick slices. Spread out on a work surface and sprinkle with salt. Allow to sit for 10 minutes. Rinse and pat dry.
Heat a large skillet over medium-high heat. Brush both sides of the eggplant with olive oil. Add to the skillet and cook for 30 seconds to a minute per side, or until browned. Set aside.
Heat oven to 350.
When rice is done, pour into a shallow casserole pan. Stir in the greek yogurt.
Top with the chickpeas, then layer the eggplant on top, followed by the tomatoes.
Bake, uncovered, for 30-40 minutes, or until eggplant is cooked through and mixture is bubbling. Let cool slightly before serving.
Serving size:
⅙th of recipe