Pumpkin Focaccia with Gruyere and Almonds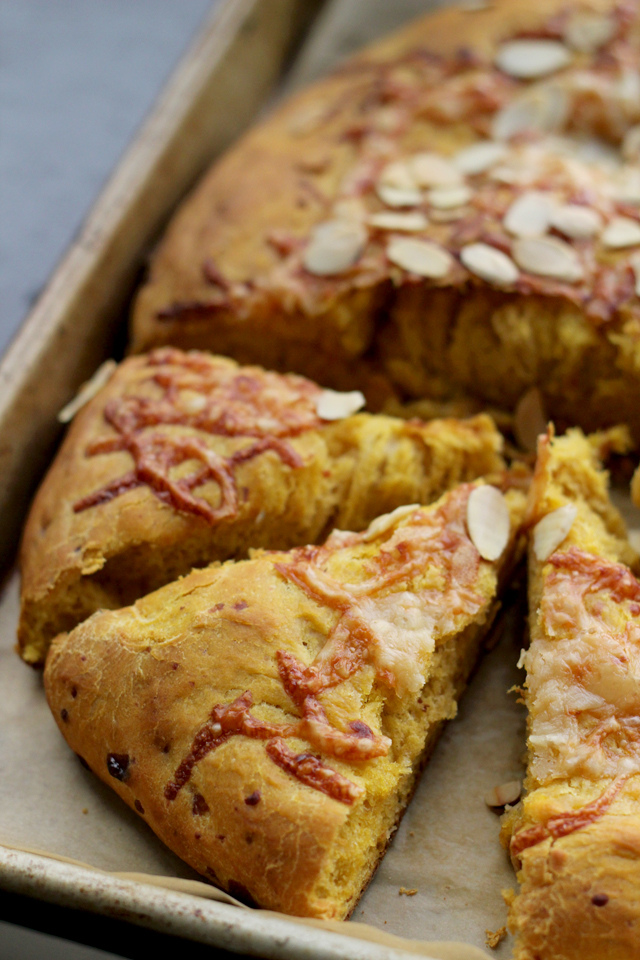 ¾ cup warm water
1 tbsp active dry yeast
⅓ cup brown sugar
3½ cups all purpose flour, plus more for dough
3 tbsp butter, melted
1 cup canned pumpkin puree
1 tsp salt
¼ tsp nutmeg
3 oz grated gruyere, divided
⅓ cup toasted sliced almonds
In the bowl of a stand mixer, combine the water, yeast, and brown sugar. Let sit for 5 minutes, or until yeast starts to get foamy. Stir in 1 cup of the flour and the butter, mixing until just combined. Cover loosely with plastic wrap and let rise in a warm place for 30 minutes.
Mix in the pumpkin, salt, and nutmeg, stirring until well combined. Add in 2¼ cups flour and half of the cheese, using the bread hook attachment to combine. Keep adding in more flour until the hook can mix it for 1 minute without any sticking to the sides. The dough should be tacky but not sticky. Mix with the dough hook or knead for 4 minutes. Place dough in a well-greased bowl and let rise, loosely covered, for an hour or until doubled in size.
Punch down the dough and then let rest for 5 minutes. Divide dough in half and, on a parchment-lined baking sheet, form into an 8-inch round or oval. Sprinkle with remaining cheese and almonds. Let rise for 20 minutes.
Heat oven to 400. Bake for 25-20 minutes, or until the bottom of the loaf has browned and the cheese melts. Let cool before serving.