Chinese Nine-Vegetable Hot and Sour Soup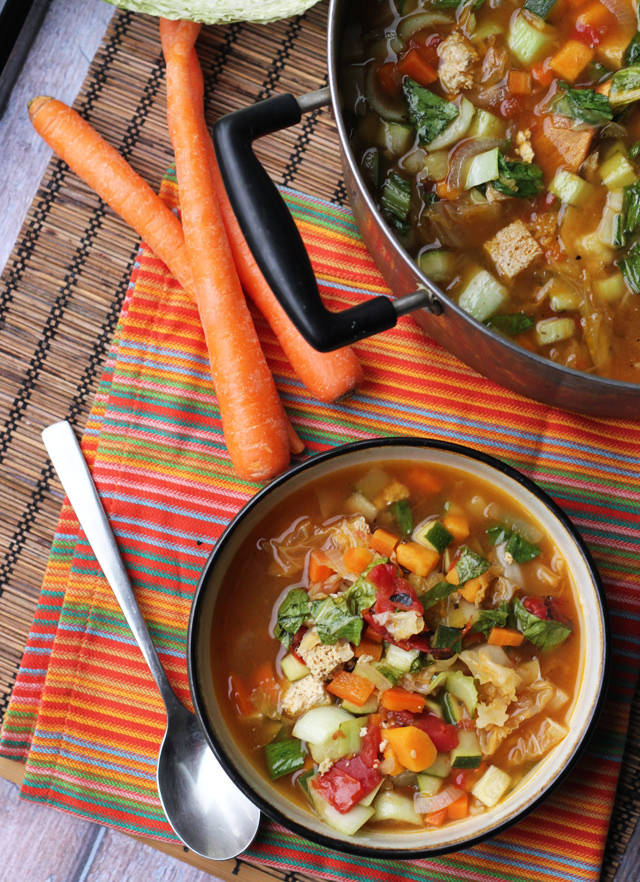 3 tbsp olive oil
1 onion, thinly sliced
1 tbsp grated ginger
1 jalapeno, minced
1 large sweet potato, peeled and diced
1 cup diced carrots
½ savoy cabbage, coarsely chopped
2½ quarts water or vegetable broth
½ cup soy sauce
⅓ cup rice vinegar
2 tsp salt
2 tsp ground black pepper
½ cup cold water
¼ cup cornstarch
1 zucchini, diced
1 red bell pepper, diced
8 oz extra firm tofu cut into ½-inch cubes
4 baby bok choy, thinly sliced
14 oz canned diced tomatoes
2 tsp sesame oil
Heat oil in a large pot over medium heat. Add in the onions, ginger, and chiles and cook for a few minutes, stirring. Add in the sweet potato, carrots, and cabbage. Cover and cook for about 3 minutes, or until cabbage starts to wilt. Add in the broth and bring to a boil. Reduce the heat to a simmer and cook for 5 minutes.
In the meantime, whisk together the soy sauce, rice vinegar, salt, pepper, cold water, and cornstarch in a separate bowl. Set aside.
Add the zucchini, bell peppers, and tofu to the pot. Simmer until the veggies are tender, about 8 minutes. Add in the soy sauce mixture and stir until the soup thickens, about 8 minutes. Add in the bok choy and tomatoes and bring the soup back to a simmer. Stir in the sesame oil.
Adapted from
The Moosewood Restaurant Cooking for Health: More Than 200 New Vegetarian and Vegan Recipes for Delicious and Nutrient-Rich Dishes
*To give the tofu that porous, spongy texture, freeze it overnight in it's liquid and then thaw it in the the fridge or by immersing it in a bowl of warm water.