Broccoli Cheese Mini Quiches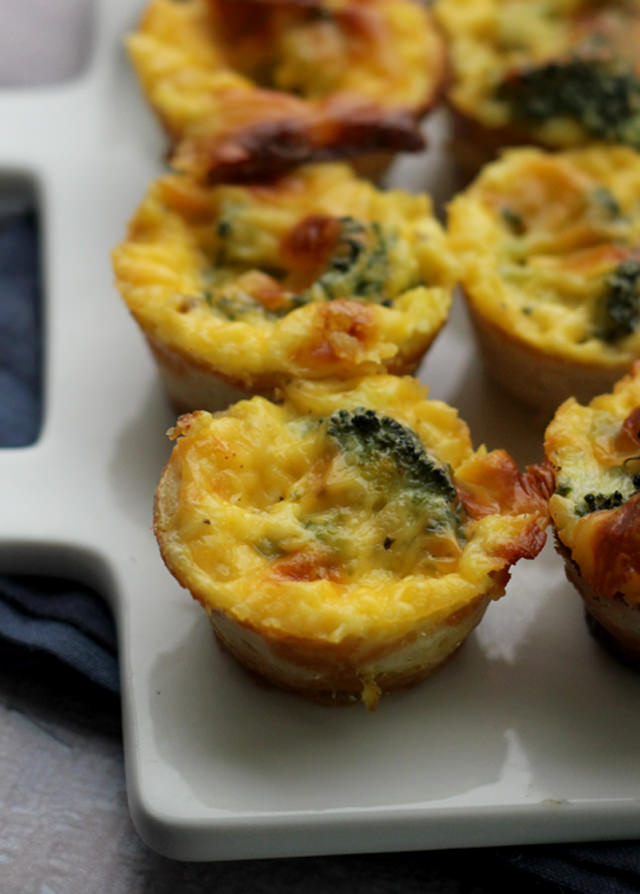 1¼ cups all-purpose flour
½ tsp coarse salt
½ tsp sugar
½ cup chilled unsalted butter, cut into small pieces
2 tbsp to ¼ cup ice water
1 small head broccoli florets, chopped into small pieces
coarse salt and freshly ground black pepper
½ cup milk
½ cup heavy cream
2 large eggs
1 large egg yolk
3-4 oz shredded Cooper Deli American cheese
To make the pie crust, in the bowl of a food processor, pulse together the flour, salt, and sugar. Add in the butter and process until the mixture resembles coarse meal, about 10 seconds. With the processor running, add in the cold water tablespoon by tablespoon until the mixture starts to come together.
Take the dough and pat it into a thin disk. Wrap in plastic wrap and refrigerate for at least an hour or overnight.
In the meantime, heat a splash of water in a medium pan. Add in the broccoli florets and steam until tender, about a minute. Drain and set aside.
In a bowl, whisk together the milk, heavy cream, eggs, and egg yolk. Season to taste with salt and black pepper.
When the dough is done chilling, roll it out on a lightly floured surface until it is ⅛-inch thick. Use a biscuit cutter to cut out circles of dough that are about 2½-inch round. Fit the rounds into a 24-cup nonstick mini muffin pan. Repeat with remaining dough until it is all used up.
Sprinkle half of the cheese into the bottoms of the pie-lined muffin cups. Top with the egg filling, distributing it evenly among the cups. Top with broccoli florets and remaining cheese.
Bake at 375 until puffed and golden, about 30 minutes. There will probably be a lot of cheese spillover depending on just how much you fill the muffin cups, but that is normal. Remove mini quiches from tin almost immediately when they come out of the oven and place on a wire rack to cool. Serve warm.
Serving size:
1 mini quiche