Rosy Red Velvet Cake with White Chocolate Cream Cheese Frosting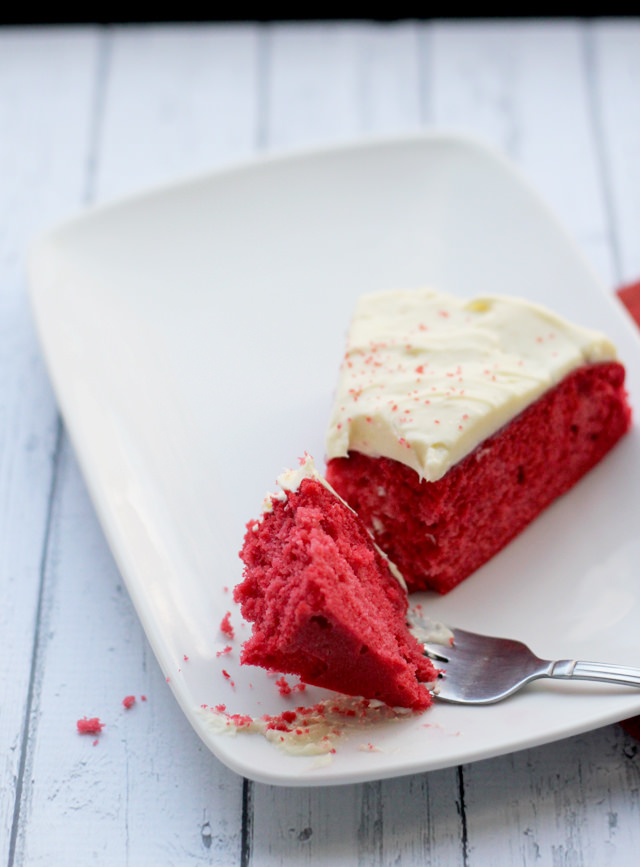 3 large egg whites, room temperature
1 tbsp Red Velvet Emulsion (or 2 tbsp red food coloring)
1½ tsp vanilla extract
2 cups cake flour
1 cup sugar
3 tsp baking powder
1 tsp unsweetened cocoa powder
½ tsp salt
¼ cup vegetable oil, room temperature
4 tbsp unsalted butter, room temperature
½ cup lowfat buttermilk
3 oz white chocolate, chopped
4 oz lowfat cream cheese, softened
2 tbsp unsalted butter, softened
½ tbsp greek yogurt
⅛ tsp almond extract
Line a 9-inch cake pan with parchment paper and coat with baking spray.
Preheat oven to 350.
In a medium bowl, whisk together the egg whites, red velvet emulsion/food coloring, and vanilla, until combined.
In a separate bowl, whisk together the flour, sugar, baking powder, cocoa powder, and salt. Set aside.
In the bowl of a stand mixer fitted with a paddle attachment, cream together the oil and butter for 1 minute, or until mostly combined. Add in the flour and buttermilk in one addition and mix on low until just combined. Increase the speed to medium and mix for 1½ minutes. Scrape down the bowl.
On low speed, mix in the egg white mixture in two parts, beating for 30 seconds after each addition on medium speed to incorporate. Pour the batter into the prepared pan and bake for 25-35 minutes, or until a cake tester inserted in the center comes out clean. Let cool in the pan for 10 minutes and then transfer to a wire rack to cool completely.
Put the white chocolate in a microwave-proof pool and heat in 15 second intervals, stirring after each, until melted. Allow to cool until it is room temperature.
In a food processor, process the cream cheese, butter, and greek yogurt until smooth. Scrape down the sides. Add in the white chocolate and pulse until incorporate. Add in the almond extract and pulse to combine.
Using an offset spatula, spread the frosting over the cake.
Slightly adapted from
Rose's Heavenly Cakes