Bucatini Peperonata with Rosemary Breadcrumbs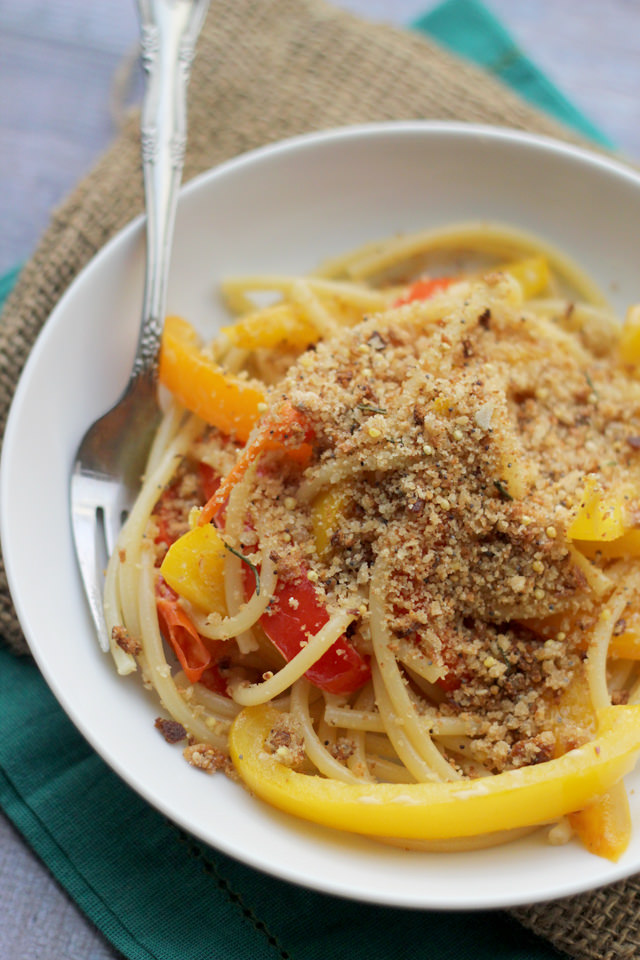 1 cup homemade bread crumbs
3 tbsp olive oil, divided
1 tbsp butter
2½ tsp fresh rosemary
2 tbsp plus ½ cup grated parmesan cheese, divided
3 bell peppers, seeded and thinly sliced
3 cloves garlic, minced
¼ tsp red pepper flakes
8 oz bucatini, linguine, or spaghetti
2 tbsp white wine vinegar
salt and black pepper, to taste
Heat 1 tbsp olive oil and tbsp butter in a large skillet over medium heat. Add in the bread crumbs, rosemary, and 2 tbsp parmesan cheese to skillet and saute, stirring occasionally, until bread crumbs start to brown and smell toasty, about 5-6 minutes. Remove to a bowl.
Bring a large pot of salted water to a boil.
In the meantime, in that same skillet, heat remaining 2 tbsp olive oil. Add garlic and red pepper flakes to the pan and saute for about 30 seconds, or until garlic starts to smell fragrant. Add in the pepper slices and a sprinkle of salt and black pepper. Saute for 5-8 minutes, or until peppers are cooked through and starting to brown in places.
Cook the pasta according to package instructions, reserving ½ cup cooking water. Toss the cooked pasta with the bell peppers, remaining ½ cup parmesan cheese, and vinegar. Season to taste with salt and black pepper. Serve tossed with breadcrumb topping.
Adapted from
Vegetarian Times
Serving size:
¼ of recipe