Red Velvet Hot Fudge Sundaes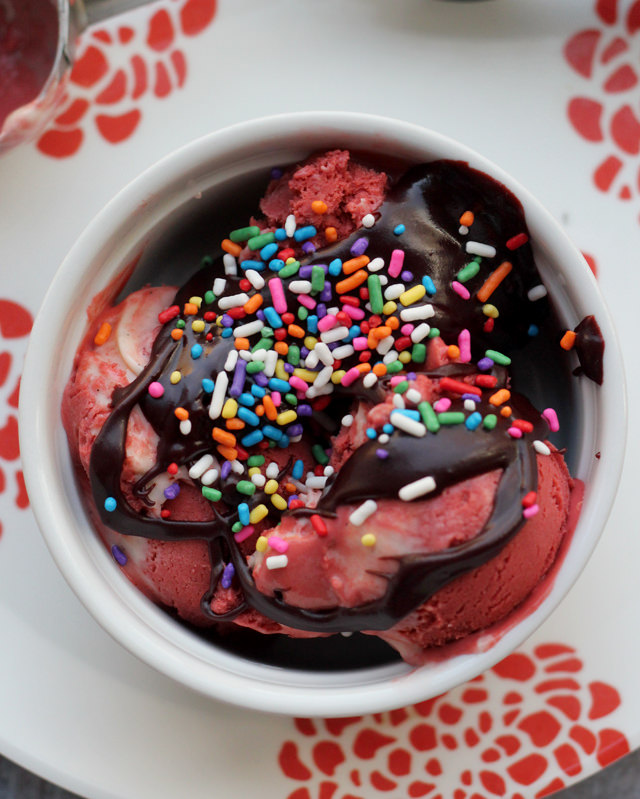 1½ cups heavy cream
¾ cup plus 3 tbsp. sugar, divided
¾ tsp cinnamon
1½ tbsp. unsweetened cocoa powder
6 large egg yolks
1¼ cups buttermilk
½ tbsp red velvet emulsion or 1 tbsp. red food coloring
1 tsp. vanilla extract
4 oz. cream cheese, cold
2½ tbsp. unsalted butter, at room temperature
1¼ cups confectioners' sugar, sifted
1 tbsp. vanilla extract
2 tbsp. heavy cream
⅓ cup heavy cream
½ cup buttermilk
½ cup light corn syrup
⅓ cup dark brown sugar
¼ cup unsweetened cocoa powder
¼ teaspoon sea salt
6 ounces Ghirardelli 60% Cacao bittersweet chocolate baking chips, chopped, divided in half
2 tablespoons unsalted butter
1 tbsp red velvet emulsion or red food coloring
To make the ice cream, in a medium pot, combine the heavy cream, ¾ cup sugar, cinnamon, and cocoa powder over medium-high heat, cooking until warm enough that sugar and cocoa powder have dissolved, whisking frequently.
Meanwhile, whisk the egg yolks with the remaining 3 tbsp sugar until sugar.
When cream mixture is warm, slowly pour into the egg yolks, whisking constantly, to temper them. Pour the whole mixture back into the pot and cook over medium-high heat, stirring and scraping the bottom of the pot constantly, until the custard is thick enough to coat the back of a spoon, about 3-5 minutes.
Pour through a fine-meshed sieve into a bowl. Stir in the buttermilk, red velvet emulsion, and vanilla. Cover with plastic wrap so that the plastic directly touches the custard, which will prevent it from forming a film. Refrigerate for 6 hours or overnight.
When custard is chilled through, pour it into the base of an ice cream maker and churn it according to the manufacturer's instructions.
While the custard is churning, make the cream cheese swirl. In the bowl of a stand mixer fitted with a paddle attachment, cream together the cream cheese and butter until combined and fluffy, about 3 minutes. On low speed, add in the confectioner's sugar and mix until combined. Mix in the vanilla and heavy cream. Set aside.
Pour half of the ice cream into a storage container. Top with half of the cream cheese swirl. Add remaining ice cream and then remaining cream cheese. Drag a knife through the ice cream to swirl and combine. Cover and chill for about 3 hours, or until frozen through.
To make the hot fudge, in a medium pot, combine the heavy cream, buttermilk, corn syrup, brown sugar, cocoa powder, sea salt, chocolate, and butter. Over medium heat, bring to a boil and then simmer for 5 minutes, stirring frequently.
Remove from the heat and stir in the red velvet emulsion. Let cool for 20-30 minutes before serving. Refrigerate in-between uses and reheat in the microwave to make it fudgy again.
Serve ice cream topped with red velvet hot fudge and copious sprinkles.