Creamy Indian-Spiced Chickpeas and Tomato Curry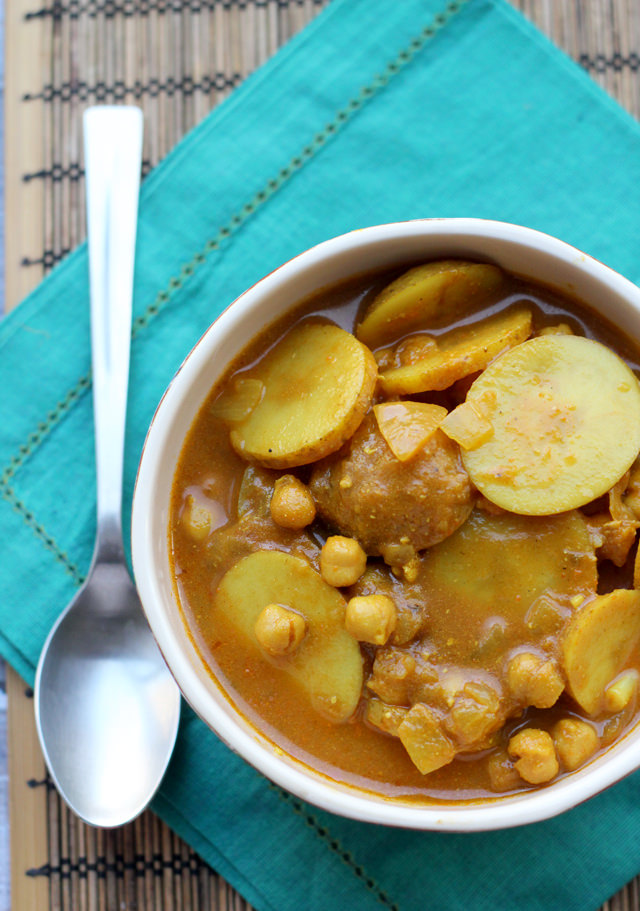 3 tbsp olive oil
½ lb dried chickpeas, soaked overnight and boiled in salted water until tender
1 medium onion, chopped
4 cubes Dorot frozen crushed garlic (or 4 cloves)
6 cubes Dorot frozen crushed ginger (or 2 tbsp)
2 tbsp tomato paste
2 tsp garam masala
2 tsp ground cumin
2 tsp ground turmeric
1½ tsp ground coriander
½ tsp ground cayenne
¾ tsp ground cardamom
6 cups vegetable broth
¾ cup tomato puree
½ cup Greek yogurt
24 oz Yukon Gold potatoes, sliced ¼-inch thick
Heat olive oil in a large pot over medium heat.
Add the onion, garlic and ginger to the pot and cook, stirring occasionally, until starting to brown, about 8 minutes.
Add in the tomato paste, garam masala, cumin, turmeric, coriander, cayenne, and cardamom. Cook, stirring constantly for 1-2 minutes.
Add in the chickpeas, vegetable broth, tomato puree, Greek yogurt, and potatoes. Bring to a boil and then simmer, partially covered, for 45 minutes or until sauce has thickened a bit and potatoes are tender. Season to taste with salt and pepper.
Serve atop a bed of rice to soak up the sauce.
Adapted from
Bon Appetit
Serving size:
⅕th of recipe