Soft and Chewy Snickerdoodle Sprinkle Cookies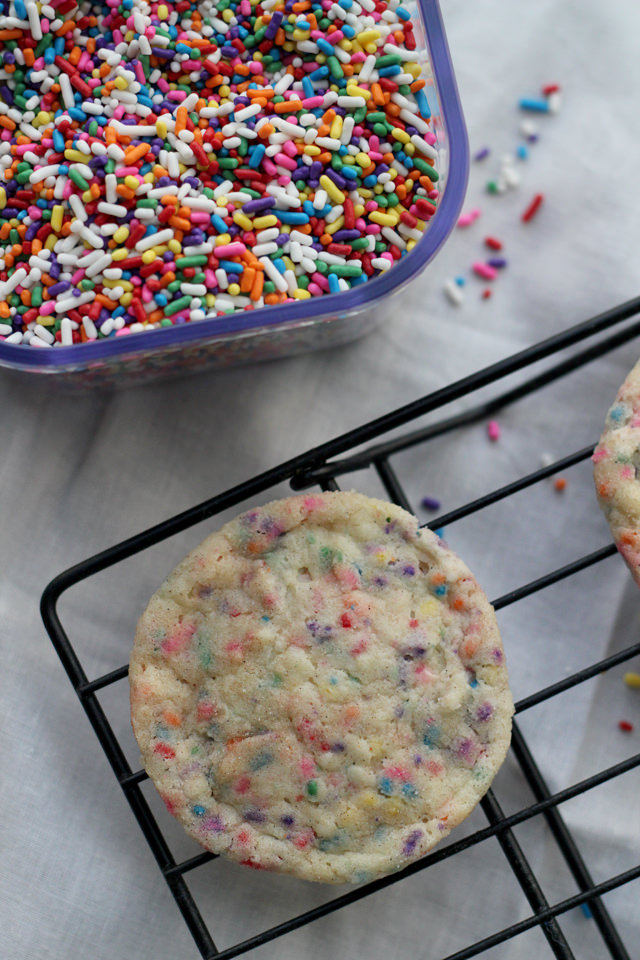 1½ cups all purpose flour
1 tsp cream of tartar
1 tsp baking powder
½ tsp baking soda
¼ tsp salt
½ cup butter, room temperature
1½ cup sugar, divided
1 large egg
2 tsp vanilla
¾ cup sprinkles
¾ tsp cinnamon
Preheat oven to 350. Line two baking sheets with parchment paper and set aside.
In a medium bowl, whisk together the flour, cream of tartar, baking powder, baking soda and salt. Set aside.
In the bowl of a stand mixer fitted with a paddle attachment, cream together the butter and ¾ cup sugar until fluffy, about 3 minutes. Add in the egg and vanilla and mix until combined. Add in the flour in three additions, mixing until completely combined after each. Pour in the sprinkles and mix until combined.
In a small bowl, whisk together the remaining ¾ cup sugar and cinnamon. Scoop the cookie dough using a 2-tsp size cookie scoop, making heaping scoops. Roll in the cinnamon sugar mix and place on the baking sheets. Repeat with remaining dough, leaving an inch between cookies.
Bake for 8-10 minutes, or until the centers are set. They will not look cooked, but don't sweat it - they will continue to cook as they cool.
Allow the cookies to rest on the baking sheet for 5 minutes. Then remove to a wire rack to cool completely.