Stuffed Cabbage with Ricotta and Pine Nuts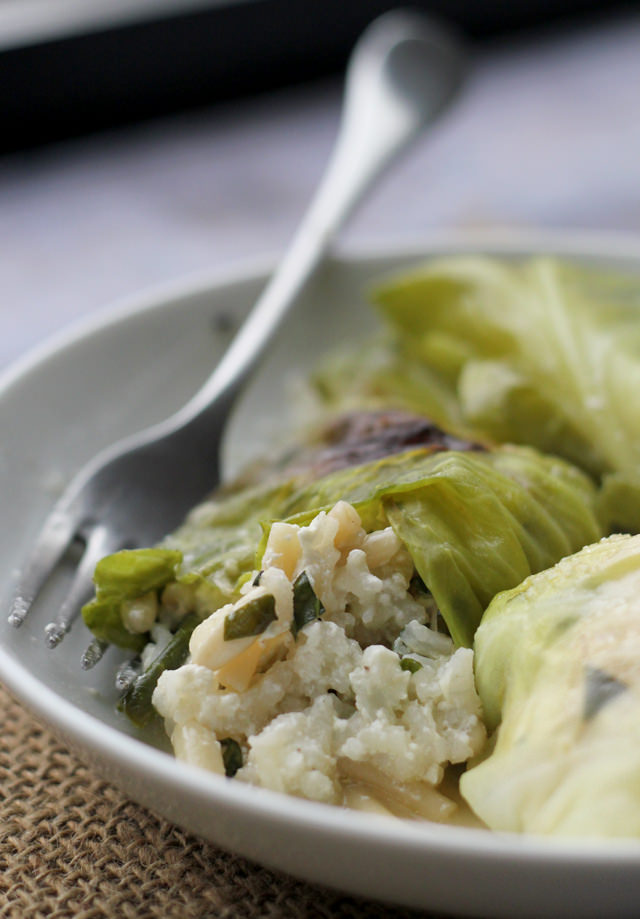 2 tbsp butter
1½ oz skinny noodles
⅞ cup basmati rice
1¼ cups water
salt, to taste
1 medium white cabbage
⅓ cup pine nuts, toasted
¾ cup ricotta
¼ cup grated Parmesan, divided
3 tbsp chopped basil
4 tbsp chopped parsley
3 garlic cloves, minced
black pepper, to taste
1½ cups vegetable broth
1½ tbsp sugar
Melt the butter in a small pot over medium heat. Break the noodles into ¾-inch long pieces and add to the pan, stirring constantly, until toasty. Add in the rice and stir to coat with the butter. Add in the water and ½ tsp salt. Bring to a boil and then cover, simmering for 10-15 minutes. Remove from the heat and let sit, covered for 10 minutes.
Meanwhile, cut the cabbage in half lengthwise. Peel off the leaves and place into a pot of boiling water for 6 minutes. Rinse with cold water and apt dry.
Heat oven to 350.
Stir the pine nuts, ricotta, 2 tbsp parmesan, basil, parsley, garlic and salt and pepper to taste into the rice mixture. Scoop the rice into the cooked cabbage leaves, making parcels out of them. Arrange the parcels closely together in an ovenproof dish. Whisk together the broth, sugar, and salt and pepper, to taste. Pour over the cabbage. Bake for 40 minutes, or until liquid has almost totally evaporated. Sprinkle with the remaining 2 tbsp parmesan cheese. Bake for 10 minutes more. Remove from the oven and let sit 5 minutes before serving.
Adapted from
Plenty: Vibrant Recipes from London's Ottolenghi
Serving size:
¼ of recipe