Penne a la Vodka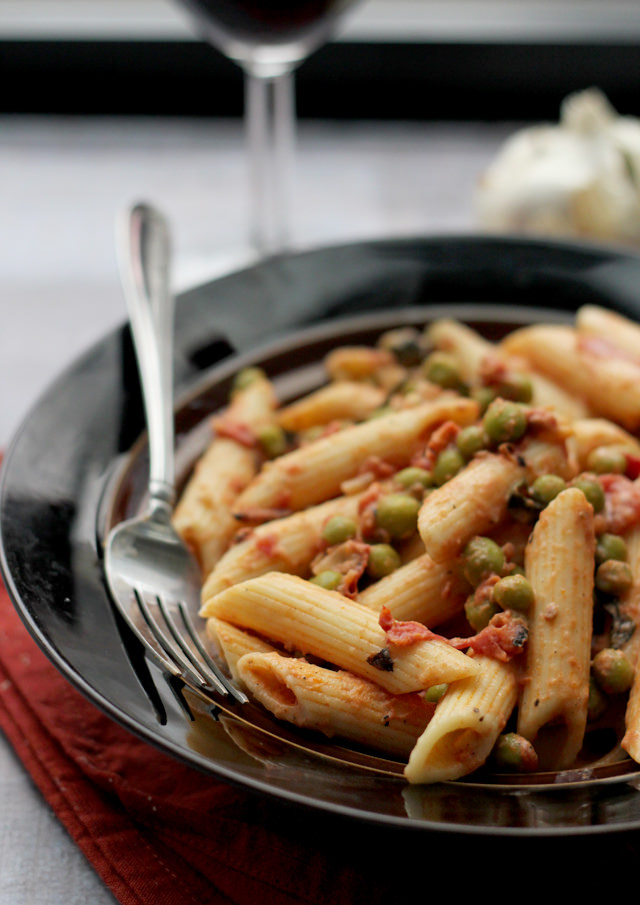 1 tbsp olive oil
1 tbsp butter
2 cloves garlic, minced
2 shallots, minced
1 cup vodka
1 cup vegetable broth
32 oz canned fire-roasted diced tomatoes
Salt and black pepper, to taste
1 lb penne
½ cup heavy cream
20 leaves fresh basil, thinly sliced
1 lb frozen peas
Set salted water to boil for cooking pasta.
Meanwhile, in a large pot, heat olive oil and butter over medium heat. Once the butter is melted, add in the garlic, shallots, and a pinch of salt, sautéing for about 3 minutes, or until shallots are starting to caramelize. Add the vodka to the pot and and reduce it by half, simmering for 2-3 minutes. Stir in the vegetable broth and tomatoes. Bring to a boil, and then reduce heat to a simmer. Season to taste with salt and pepper and let simmer while the pasta cooks.
Once the pasta water is boiling, cook the pasta according to package instructions. Pour the frozen peas into the colander that you will strain the pasta is. Once the pasta is cooked, strain it, pouring the boiling water over the peas to cook them.
Stir the cream and basil into the sauce. Toss the sauce with the pasta and peas, and serve.
Serving size:
⅙th of recipe