Savory Chickpea Pancakes with Spicy Roasted Carrots, Sweet Potatoes, and Feta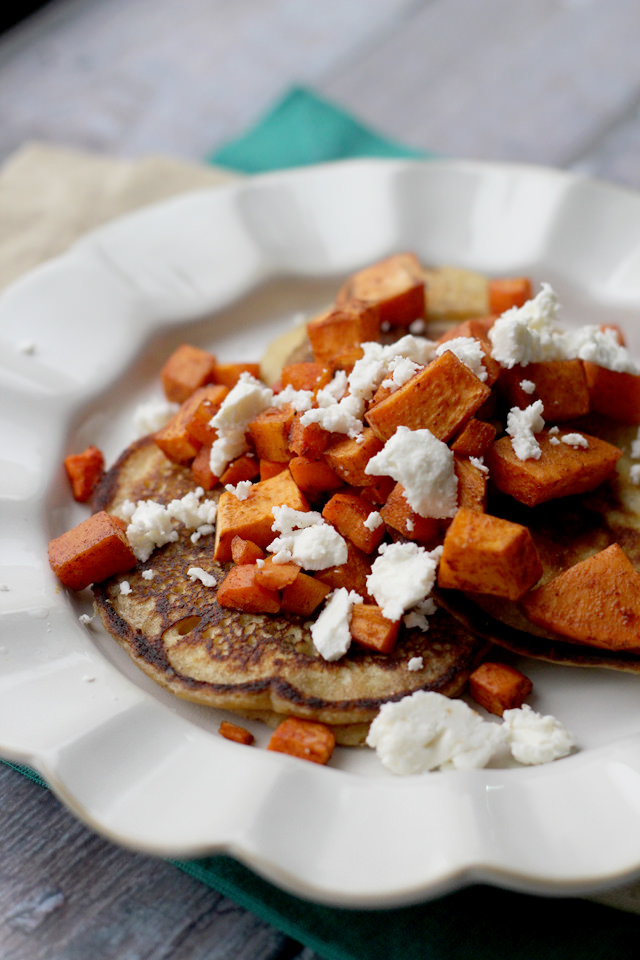 2 cups chickpea flour
2 cups buttermilk
1 tsp baking powder
½ tsp salt
1 tbsp nut butter
3 tbsp olive oil
6 carrots, peeled and cut into ½-inch dice
1 medium sweet potato, peeled and cut into ½-inch dice
2 tbsp olive oil
½ tsp smoked paprika
½ tsp cinnamon
¼ tsp chipotle chili powder
¼ tsp cumin
salt, to taste
4 oz feta cheese, crumbled
Heat oven to 400.
In a large bowl, toss together the carrot and sweet potato cubes with the olive oil, smoked paprika, cinnamon, chili powder, and cumin. Spread over a parchment-lined baking sheet and sprinkle with salt. Roast for 20-30 minutes or until tender.
Meanwhile, in a large bowl, whisk together the chickpea flour, buttermilk, baking powder, salt, nut butter and olive oil. Let sit for 10 minutes.
Spread a layer of butter on a nonstick skillet and heat over medium heat. Pour a scant ¼ cup of pancake batter into the skillet for each pancake, making sure not to crowd the pan. Cook until small bubbles start to form on the top of the pancakes and the edges start to be golden brown. Flip and cook for another few minutes, until golden brown. Transfer to a plate and repeat with remaining batter.
Serve pancakes topped with the roasted veggies and a sprinkling of feta.
Serving size:
¼ of recipe
Recipe by
Joanne Eats Well With Others
at https://joanne-eatswellwithothers.com/2014/02/savory-chickpea-pancakes-spiced-roasted-carrots-sweet-potatoes-feta.html