One-Pot Spaghetti with Greek Tea, Feta, and Kalamata Olives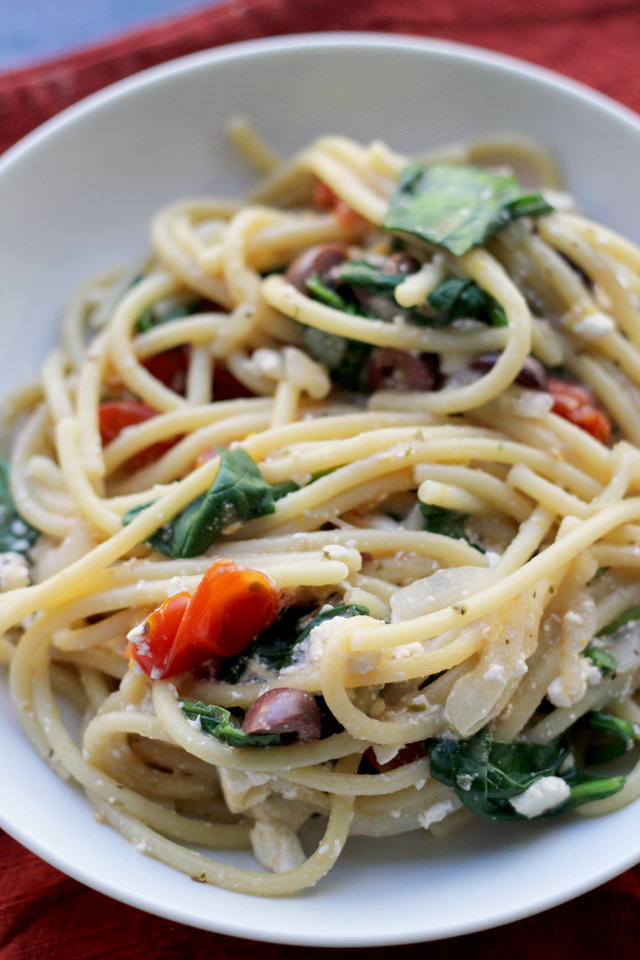 3 sprigs Greek mountain tea (or green tea)
2 bay leaves
8 oz spaghetti, broken in half
1 onion, thinly sliced
1 lb cherry tomatoes, halved
3½ cups water
1 tbsp oregano leaves
2 tsp grated lemon peel
1½ tsp garlic powder
1 tsp salt
6 oz baby spinach
4 oz feta cheese, crumbled
½ cup pitted kalamata olives, sliced
2 tbsp fresh lemon juice
Break the tea stems into smaller pieces if super long. Put the tea and the bay leaves in a cheesecloth or coffee filter, and tie shut.
In a large pot, combine the cheesecloth bundle, spaghetti, onion, cherry tomatoes, water, oregano, lemon peel, garlic powder, and salt. Bring to a boil and cook for 10-12 minutes, or until pasta is tender and liquid has almost entirely evaporated, stirring frequently.
While still warm, add the spinach, feta, olives, and lemon juice, and toss to combine.
Recipe by
Joanne Eats Well With Others
at https://joanne-eatswellwithothers.com/2014/03/one-pot-spaghetti-greek-tea-feta-kalamata-olives.html