Roasted Cauliflower, Sage, and Almond Risotto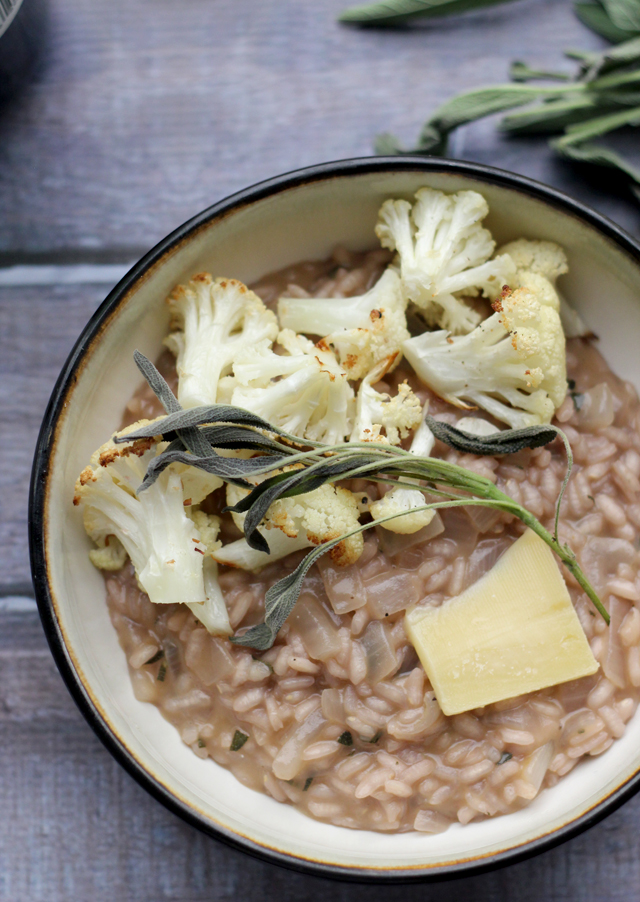 1 head cauliflower, trimmed and chopped
2 tbsp olive oil
salt and black pepper, to taste
¼ cup sliced almonds
4 sprigs sage
6 cups vegetable broth
1 tbsp butter
1 onion, diced
2 tbsp minced fresh sage
1½ cups arborio rice
½ cup red wine
½ cup grated parmesan cheese
4 oz strong cheese (Taleggio, gouda, etc)
Preheat oven to 425.
In a large bowl, toss together the cauliflower and olive oil. Spread on a parchment-lined baking sheet. Sprinkle with salt and black pepper. Roast for 15 minutes.
Add the onions and sage sprigs to the pan and roast for another 5 minutes. Remove from the oven and set aside.
In the meanwhile, bring the vegetable broth to a simmer on the stove.
In a separate, large pot, melt the butter over medium heat. Add the onion to the pan, along with a pinch of salt, and saute for 5 minutes or until tender. Add in the minced sage and arborio rice. Stir to combine. Add in the red wine and stir until almost evaporate.
Add the broth to the rice in 1 cup increments, only adding the next cup when the former has almost evaporated, stirring constantly. Continue until the rice is tender, about 25-30 minutes.
Remove from the heat and stir in the parmesan cheese. Season to taste.
Serve risotto topped with roasted cauliflower, almonds, sage, and 1 oz of cheese.
Serving size:
¼ of recipe
Recipe by
Joanne Eats Well With Others
at https://joanne-eatswellwithothers.com/2014/02/roasted-cauliflower-sage-almond-risotto.html