Green Tea Financiers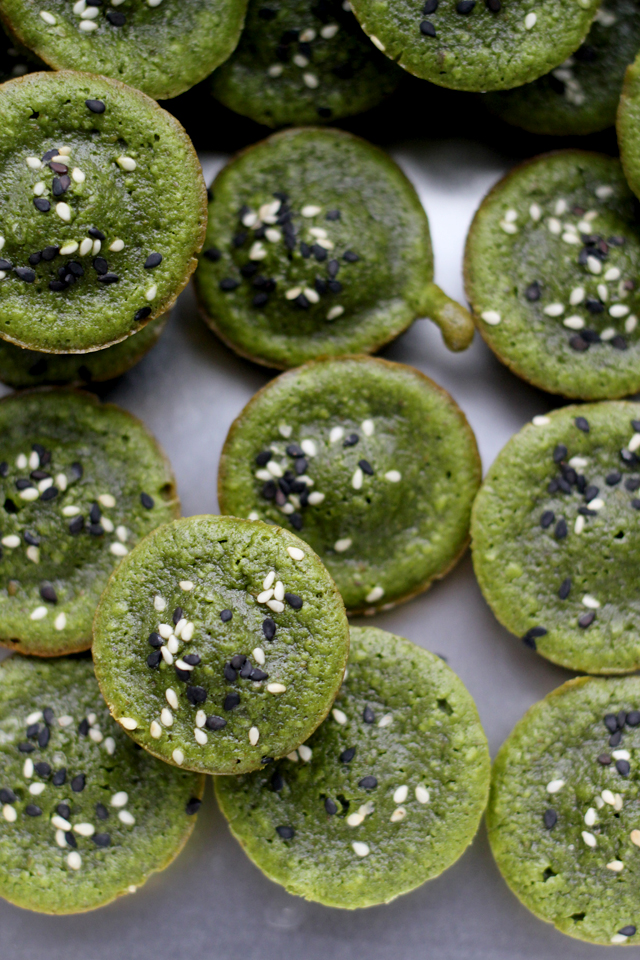 2 tsp sesame seeds (mix of black and white)
⅛ tsp flaky sea salt
⅔ cup sliced almonds
½ cup sugar
1 tbsp white sesame seeds
5 tbsp (45 g) all purpose flour
2½ tsp green tea powder (matcha)
¼ tsp baking powder
pinch of salt
½ cup egg whites (about 4 large egg whites)
6 tbsp unsalted butter, melted and cooled slightly
Heat the oven to 375. Grease a mini muffin tin.
For the sesame-salt mix, stir together the sesame seeds and sea salt in a small bowl. Sprinkle the greased muffin cups with ⅔ of the seed mixture, reserving the rest.
For the financiers, in the bowl of a food processor, blend together the almonds, sugar, white sesame seeds, flour, green tea, baking powder, and salt, until the nuts are finely ground. Add in the egg whites and butter and pulse until smooth, scraping down the bowl as needed.
Split the batter among the prepared muffin cups, then sprinkle the tops with the remaining sesame-salt mixture. Bake until the financiers are firm when pressed with a finger, about 12 minutes.
Let cool completely before removing from muffin cups.
Adapted from
Ready for Dessert: My Best Recipes