Saag Paneer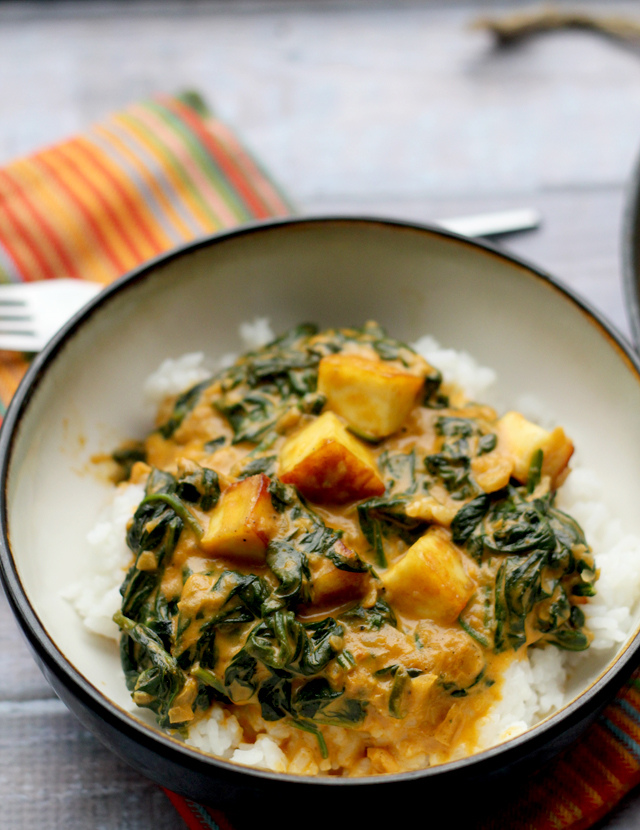 ¼ cup vegetable oil
½ lb paneer, cut into 1-inch cubes
1 onion, coarsely chopped
1 fresh green serrano chile, stems discarded, coarsely chopped (don't remove the seeds)
1 tbsp Madras curry powder
1 tsp kosher salt
1 cup tomato sauce
1 lb baby spinach leaves
1 cup half and half
Heat the oil in a large nonstick skillet over medium heat. Add the paneer in a single layer and cook until starting to brown, then flip over and repeat on all sides. Remove to a paper towel-lined plate, leaving as much oil in the pan as possible.
Place the onion and chile into a food processor and pulse until minced. Add them to the skillet and saute over medium heat until the onion starts to brown, about 5 minutes.
Sprinkle in the curry sauce and the salt, stirring constantly, for 30 seconds. Pour in the tomato sauce. Reduce the heat to medium-low and simmer, uncovered, stirring frequently, about 8 minutes, until most of the liquid evaporates.
Increase the heat to medium-high and add in the spinach by the handful, allowing it to wilt before adding more. Repeat until all of the spinach has wilted.
Stir in the half and half and the paneer. Simmer until heated through, about 5 minutes. Serve warm over rice or with naan.
Serving size:
¼ of recipe